UFC on ESPN 50: Sandhagen vs. Font Predictions, Fight Card, and Odds (Aug 5)
MMA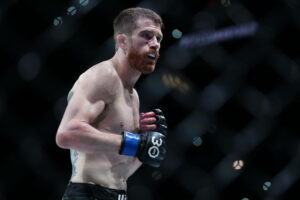 Cory Sandhagen seen as a huge favorite against Rob Font in the UFC on ESPN 50 main event.
Tatiana Suarez hoping to record the 10th win of her career this coming Saturday.
Dustin Jacoby set to upset the odds against Kennedy Nzechukwu.
We're back with another set of top UFC picks. This coming Saturday, the promotion is traveling to Tennessee, where UFC on ESPN 50 a.k.a. UFC on ESPN: Sandhagen vs. Font will take place. There are six fights on the main card, all of which we're going to analyze in this post, sharing our top predictions along the way.
---
Schedule and How to Watch
Where: Bridgestone Arena, Nashville, Tennessee
When: Saturday, August 5, 2023, at 9 p.m ET
How to Watch: ESPN
---
UFC on ESPN 50 Predictions
Cory Sandhagen vs. Rob Font
It's very likely that Cory Sandhagen is in much better shape than Rob Font. The thing is that The Sandman was supposed to fight Umar Nurmagomedov, but the Dagestani fighter pulled out of the fight some two weeks ago. Rob Font was the one who stepped in to save the day. However, he just hasn't had much time to prepare for the fight.
The evidence of this is that he's currently over the bantamweight limit of 135 pounds, which is why the UFC on ESPN 50 headliner is going to be a 140lb catchweight bout. But even if he was in his best shape, we'd still consider him the underdog against Sandhagen.
Prediction:
---
Jessica Andrade vs. Tatiana Suarez
After a hiatus that lasted for nearly four years, Tatiana Suarez made her comeback to the MMA universe in February, beating Montana De La Rosa by submission in round 2, for which, the UFC awarded her with the Performance of the Night bonus.
The 32-year-old is now 9-0 and is sitting in the 10th position in the women's strawweight rankings. Winning another fight would almost certainly get her closer to the top, and perhaps even give her a chance to fight for the title in the future.
So, the big question is can she beat the former UFC champ? Oddsmakers think so and we can only agree. Jessica Andrade has already fought three fights in 2023, losing two of those inside the distance. She suffered a nasty round 1 KO to Yan Xiaonan in her most recent fight, while just before that, Erin Blanchfield beat her by submission.
We think she's gonna suffer another loss this weekend. It's just that she's nowhere near as good a wrestler as Suarez, who's also a very decent boxer.
Prediction:
---
Dustin Jacoby vs. Kennedy Nzechukwu
Both fighters are excellent strikers, who move fast inside the Octagon and land a lot of punches and kicks. We think they're so similar that it's literally a coin toss when it comes to who's going to win this fight.
The reason why the odds favor Kennedy is that he's got a better record than Dustin. He's 12-3 overall with three wins in a row. Dustin, on the other hand, is 18-7-1, coming off two straight losses. However, there's a caveat. Both of those happened after the final bell.
READ ALSO: Leagues Cup Preview: Inter Miami vs. Orlando City Prediction, Odds, and Picks (Aug 2)
Jacoby first lost to Khalil Roundtree Jr. by a split decision. In that fight, he was the one to land 35 more significant strikes than his opponent, but his strikes just didn't cause as much damage as those produced by Roundtree Jr.
Then, Azamat Murzakanov beat Jacoby by unanimous decision in a fight in which he got knocked down once but got up to continue fighting. That's proof of how tough this guy is, which is one of the main reasons we're going to back him to win on Saturday.
Prediction:
---
Diego Lopes vs. Gavin Tucker
Diego Lopes made his UFC debut in May when he stepped in on short notice to fight the undefeated Movsar Evloev. He put on a decent fight but ended up losing by a decision in the end. This time, he seems likely to win.
It's because he's fighting Gavin Tucker who hasn't fought a single fight since 2021. And the last time he fought, he got put to sleep after just 22 seconds by Dan Ige.
Prediction:
---
Tanner Boser vs. Aleksa Camur
Tanner Boser is 20-10-1 overall with only one win in his last five fights. In 2023, he fought once, and we saw him get KO-ed by Ion Cutelaba in round 1.
This Saturday, he's locking horns with Aleksa Camur, a DWCS alumnus who's 6-2 overall, with those two losses happening in his last two fights. Same as Boser, he too hasn't fought in two years, so he might have some ring rust. That said, he looks like an ideal opponent for Boser who's looking to make himself relevant again.
Prediction:
---
Ignacio Bahamondes vs. L'udovit Klein
Ignacio Bahamondes (14-4) is a knockout artist with nine wins by this method. This Saturday, he's taking on L'udovit Klein (19-4), who's a very well-rounded fighter with eight wins by KO/TKO, eight by submission, and three by decision.
Klein is six inches shorter than Bahamondes, but he's got a low center of gravity, meaning that there's little chance his rival will be able to take him down. Instead, Bahamondes will probably want to turn this duel into a boxing match. We think he's going to succeed – he'll probably win by either KO/TKO or by decision.
Prediction: