UFC 288: Sterling vs. Cejudo Predictions, Fight Card, and Odds (May 6)
MMA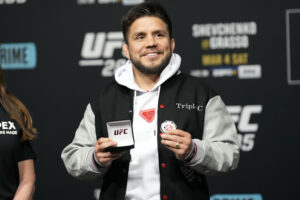 UFC 288: Sterling vs. Cejudo is fought on Saturday, May 6 in New Jersey.
Henry Cejudo is coming out of retirement with the intention of getting back his UFC Bantamweight belt.
Gilbert Burns is coming back to the Octagon just four weeks after beating Jorge Masvidal.
UFC 288: Sterling vs. Cejudo has the potential to be the greatest MMA event of the year. It's mainly because the headliner fight will mark the return of Henry Cejudo, who's fighting reigning UFC Bantamweight champion Aljamain Sterling for the title.
As if that wasn't enough, this event will also see a few other incredible matchups. In the co-main event, for example, Belal Muhammad is locking horns with Gilbert Burns in what could easily be the title eliminator fight.
The remaining three main card fights also don't lack any excitement, which is why we decided to preview all of them. In this post, you can read our preview of each UFC 288 main card fight, with odds analysis and free betting predictions.
---
Schedule and How to Watch
Where: Prudential Center, Newark, New Jersey
When: Saturday, May 6, 2023, at 10 p.m ET
How to Watch: PPV
---
UFC 288 Predictions
Aljamain Sterling vs Henry Cejudo
Aljamain Sterling's been getting his share of criticism ever since he won the title after Petr Yan god disqualified for an illegal move. The two had a rematch and Aljo won again, this time by a split decision. Then, in his most recent fight, Sterling defeated T. J. Dillashaw by TKO after his opponent dislocated his shoulder.
One may say that Aljo has had a lot of luck during his reign, but how long will it last? This Saturday, he'll need even more luck to do well against such a legendary fighter as Henry Cejudo.
This guy is an Olympic gold medalist in wrestling, while also having a great set of grappling skills. Still, in his MMA career, Cejudo's favorite method of finishing opponents has been KO/TKO. Plus, many believe that he's the fighter with the highest fighting IQ in the UFC.
Prediction:
---
Belal Muhammad vs Gilbert Burns
Twenty-eight days after beating Jorge Masvidal by decision in a three-round fight, Gilbert Burns is coming back into the Octagon. This time, he's fighting Belal Muhammad. With under a month to prepare for the fight, one might think that the Brazilian is going to have a difficult time. We think so too, but we do have faith in him.
The thing is that Muhammad too has had some issues preparing for the fight. First of all, he stepped in on two weeks' notice to fight Burns. He stepped in to save the day after the original co-main event (Oliveira vs Dariush) fell through.
Secondly, Muhammad is a devout Muslim, who fasted from dawn till dusk every single day during the month of Ramadan (Mar 22 – Apr 20). His fasting routine involved not only abstaining from food but water as well.
Further, Muhammad also has some issues with cutting weight. As revealed by his nutritionist Ian Larios, he was 44 pounds over the weight limit at the time when the fight was announced. Larios later said he was joking but admitted that Muhammad had about 20 pounds to shred.
Prediction:
---
Jessica Andrade vs Yan Xiaonan
Jessica Andrade is a former UFC Women's Strawweight Champion, who also fought in the Flyweight division where she lost to Valentina Shevchenko in the title bout. That said, she's got way more experience fighting at an elite level than her next opponent, Yan Xiaonan.
READ ALSO: 2000 Guineas 2023 Pick, Odds, and Preview (May 6)
She's also physically superior to Xiaonan. Andrade is shorter, but she's much more powerful than the Chinese fighter. Plus, her build makes it very hard for her opponents to take her down. This explains why her TD defense in the UFC is 73%.
Still, her strongest weapon is striking. She lands a lot of punches and kicks in every fight, and they're all usually very powerful. Xiaonan is similar in this aspect, but Andrade is still better.
Prediction:
---
Movsar Evloev vs Bryce Mitchell
Movsar Evloev is an excellent wrestler who's won most of his MMA fights by dropping his opponents to the floor. In each of his previous two fights, he recorded nine takedowns. We think he's going to record a lot of takedowns on Saturday as well, but will he be able to finish Bryce Mitchell?
We're not so sure about it as Mitchell is great on the floor. He's a black belt in Brazilian jiu-jitsu, who just loves to choke out his opponents. So even if Evloev takes him down, it won't mean the end of Mitchell. In fact, we wouldn't be surprised if the American put his rival to submission.
Oddsmakers disagree, but this is the hill we're willing to die on – we think Mitchell is a better fighter than Evloev.
Prediction:
---
Kron Gracie vs Charles Jourdain
Kron Gracie is a member of the BJJ Gracie family and like his relatives, he too is an expert grappler. This explains why each of his five MMA wins happened by submission. The problem for him is that in order to do the same to Charles Jourdain, he mustn't get knocked out.
Jourdain is an excellent striker who lands 5.84 significant strikes per minute. His takedown defense isn't great (48%), but this guy can punch his way out of Gracie's TD attempts.
Prediction: