UFC 291: Poirier vs. Gaethje 2 Predictions, Fight Card, and Odds (Jul 29)
MMA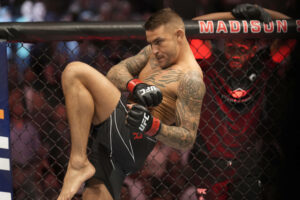 Dustin Poirier vs. Justin Gaethje fight for the "BMF" title in the main event.
Alex Pereira is making his UFC Light Heavyweight debut in the UFC 291 co-main event.
Tony Ferguson might be fighting his last-ever MMA fight this Saturday.
The Ultimate Fighting Championship (UFC) is coming to Utah this weekend. Delta Arena in Salt Lake City is the place where UFC 291: Poirier vs. Gaethje 2 will take place on Saturday, July 29. Headlined by the rematch between Dustin Poirier and Justin Gaethje – who fight for the symbolic "BMF" title – the event is stacked.
Alex Pereira is making his 205lb-division debut in the co-main event against Jan Blachowicz, Stephen Thompson is taking on Michel Pereira in the feature fight, while the remaining two bouts on the main card are Tony Ferguson vs. Bobby Green and Michael Chiesa vs. Kevin Holland. We're now going to preview all of those fights, sharing our top UFC 291 predictions along the way.
---
Schedule and How to Watch
Where: Delta Arena, Salt Lake City, Utah
When: Saturday, July 29, 2023, at 9 p.m ET
How to Watch: PPV
---
UFC 291 Predictions
Dustin Poirier vs. Justin Gaethje 2
The first time these two met, Poirier won by TKO. It was only the second time Gaethje lost by this method. Since then, he lost two more times, but neither of those happened by KO/TKO. Instead, Khabib Nurmagomedov and Charles Oliveira beat him by submission. What's interesting is that the two former champs also defeated Poirier. In fact, those two are the only ones to beat "The Diamond" since 2016.
Knowing all this, it's no surprise that Poirier vs. Gaethje 2 is headlining the UFC 291 event. If you're wondering why this is the fight for the "BMF" title, it's because these guys are tough as nails. Poirier lands 5.51 significant strikes per minute while absorbing 4.25. That's impressive, but that's nothing compared to Gaethje's states. "The Highlight" lands 7.38 strikes, while getting hit 7.66 times per minute on average.
We predict this is going to be a hell of a brawl, with the two beating each other up throughout the fight. The winner of the fight will be the one who stays on his feet until the end. So, who's going to be? Given that Poirier has already defeated Gaethje by stoppage, our vote goes to him.
Prediction:
---
Jan Blachowicz vs. Alex Pereira
Alex Pereira is one of the greatest kickboxers on Earth, but his wrestling skills are questionable. He's fought five UFC fights so far, and we saw him get taken down five times. That might not seem too bad, but keep in mind that two of those fights were against Israel Adesanya, who before fighting "Poatan" had zero TDs in his portfolio.
Wrestling could be a serious problem for the Brazilian this Saturday as he's taking on Jan Blachowicz who's great when it comes to takedowns. Plus, the Polish fighter is way stronger than any fighter Pereira's faced so far.
Prediction:
---
Stephen Thompson vs. Michael Pereira
Michael Pereira is on a roll, with five straight wins in the UFC. However, none of those happened against a fighter who's anywhere near Stephen Thompson in terms of fighting skills.
"Wonderboy" is one of the best kickboxers in the welterweight division, but his takedown defense is horrible. This explains why he lost three of his last four fights. However, those defeats happened against great wrestlers – Gilbert Burns, Belal Muhammad, and Kevin Holland.
We just don't think Pereira's wrestling skills are good enough to dominate Thompson on Saturday. Plus, "Wonderboy" has been probably working hard to improve his TD defense over the last couple of months.
Prediction:
---
Tony Ferguson vs. Bobby Green
Tony Ferguson is already 39, and with five losses in a row, it's no surprise that everyone's talking about his possible retirement. So, is he washed up or does "El Cucuy" have it in him to stage a huge upset?
We're sure that Ferguson still has the skillset that made him a UFC legend. In fact, the reason why his recent record is so horrible is that he faced some real elite fighters – Justin Gaethje, Charles Oliveira, Beneil Dariush, Michael Chandler, and Nate Diaz. All of them are way better than his next opponent, Bobby Green.
Prediction:
---
Michael Chiesa vs. Kevin Holland
Michael Chiesa is one of the best wrestlers/grapplers in the welterweight division, but his striking skills aren't great. He lands just 1.88 significant strikes per minute, so it's no surprise that he's got zero wins by KO/TKO.
READ ALSO: 3M Open Predictions, Preview, and Odds (2023)
Kevin Holland is a much more well-rounded fighter. Striking is his forte, but he also has decent takedown skills and is pretty good on the floor. On top of everything, he also has way more experience fighting at a top level than his next opponent, which is another reason why we're gonna back this guy.
Prediction: