UFC on ABC 5: Emmett vs. Topuria Props, Breakdown, Odds, and Picks (Jun 24)
MMA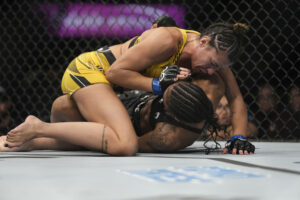 Do Emmett and Topuria have enough stamina for a marathon fight in the UFC Jacksonville main event?
Amanda Ribas to finish Maycee Barber by submission looks like a very interesting UFC prop bet.
Can BJJ expert Brendan Allen outclass the knockout master Bruno Silva on June 24?
UFC on ABC 5 a.k.a. UFC on ABC: Emmett vs. Topuria or UFC Jacksonville is on the program this Saturday. We predict that this is going to be one very fun weekend, both for fans and bettors.
We've already done a thorough analysis of all main card fights, which you can read in our UFC on ABC 5: Emmett vs. Topuria Predictions piece. In this post, however, we're going to focus on MMA props.
---
Schedule and How to Watch
Where: VyStar Veterans Memorial Arena, Jacksonville, Florida
When: Saturday, June 24, 2023, at 10 p.m ET
How to Watch: ABC
---
UFC on ABC 5 Props
Josh Emmett vs. Ilia Topuria Prop Pick
Josh Emmett started out as a wrestler; then, he took his striking game to a whole new level after joining the UFC in 2016. Still, his strongest weapon in 2023 is his incredible engine that just keeps him going. This guy throws a lot of strikes (4.17 strikes per minute) but also gets hit quite a lot (4.43 times per minute), but he doesn't mind it – he just keeps on going.
He also has a pretty decent takedown defense. He's currently at 58%, but that number would've been higher if it weren't for the wrestling duel with Scott Holtzman in 2016, which saw Emmett get taken down three times (he too made a lot of TDs that day – eight).
Knowing all this, it seems very unlikely that Ilia Topuria is going to finish him on Saturday. But what about the other way around? Emmett could beat him inside the distance, but only very late in the fight after Topuria gases out. This guy's never fought a five-round bout, so we suspect he might end up exhausted if the fight goes for more than three rounds. And that's when it's an ideal opportunity for "The Fighting Falmer" to finish him.
So, if you feel adventurous, a UFC on ABC 5 prop you might like is Josh Emmett to win in Round 5, for which the odds are +3300 at BetUS. If, on the other hand, you want to play it safe, the best Emmett vs. Topuria prop bet for you is over 2.5 rounds.
Amanda Ribas vs. Maycee Barber Prop Pick
Maycee Barber has never been finished in her career, but we suspect that might end this Saturday. It's because she's fighting a very tough opponent who's strong and powerful, and pretty good when it comes to wrestling.
Barber just isn't great when it comes to takedown defense, the evidence being that she suffered eight TDs in her last four fights. None of those, however, resulted in her opponents winning by submission, but we think Ribas might do things differently. The Brazilian fighter is a black belt in BJJ and judo, which she's been practicing since elementary school.
---
Cody Brundage vs. Sedriques Dumas Prop Pick
Brundage is better than Duman in most aspects of MMA, but there are some things going against him ahead of UFC Jacksonville. First of all, he's coming to Florida on short notice, having accepted the fight just a couple of days ago after Punahele Soriano pulled out of the event.
READ ALSO: PFL 6 (2023): Aubin-Mercier vs. Romero Predictions, Fight Card, and Odds (June 23)
Secondly, he's fighting a tall guy with long arms who knows how to box. Finally, considering that he's lost the last two fights (each by stoppage), Brundage might decide to be more careful this time around. This doesn't mean that he's going to lose, but it means that he probably won't win inside the distance.
Actually, we think it's very likely this fight will last until the final bell, after which it's really a coin toss as to who's gonna win over the judges' affection.
---
David Onama vs. Gabriel Santos Prop Pick
This is going to be one very close fight, which could see one of them win by a split decision. These two are very similar fighters in the sense that they're both relatively young (still in their 20s) and very ambitious.
Each fighter has an impressive record – Onama is 10-2, while Santos is 10-1. Plus, neither of them has ever been finished.
Another interesting fact is that Onama vs. Santos odds have changed a lot over the last couple of days. Onama started out as a huge favorite, but he's now seen as an +190 underdog. Nevertheless, we do think he's gonna put on a good fight on Saturday.
This is why our UFC prop bet for this fight is David Onama +3.5 points, which means that he can win by any method or lose by decision with no more than a four-point deficit.
---
Brendan Allen vs. Bruno Silva Prop Pick
Bruno Silva is a KO expert who's got a knockout-to-win ratio of 86.95%, which is one of the highest numbers in the middleweight division. However, we don't think he's gonna get a chance to knock Brendan Allen out on Saturday.
Instead, we predict that the American fighter will outwrestle him. He's strong enough to take down Silva and has the BJJ skillset needed to finish his opponent by submission.