PFL 6 (2023): Aubin-Mercier vs. Romero Predictions, Fight Card, and Odds (June 23)
MMA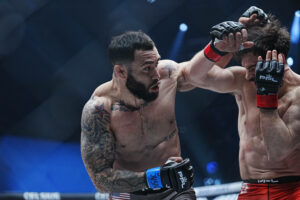 It's time for the final PFL event of the 2023 regular season.
Olivier Aubin-Mercier needs another win to book a place in the playoffs.
Last year's PFL Lightweight runner-up Stevie Ray in need of a win inside the distance.
The end of the 2023 PFL regular season is just around the corner. In fact, the final event of the first portion of the season is on the program on Friday, June 23. Overtime Elite Arena in Atlanta, Georgia, is the place where PFL 6 will take place, an event featuring six lightweight fights, five welterweight fights, and one featherweight bout.
The PFL 6 (2023) is headlined by a fight between last year's Lightweight champion Olivier Aubin-Mercier and Anthony Romero who's making his proper PFL debut on Friday. In addition to the main event, there are another three interesting fights on the main card, each of which we're going to analyze in this PFL 6 preview. So, let's start!
---
Schedule and How to Watch
Where: Overtime Elite Arena, Atlanta, Georgia
When: Friday, June 23, 2023, at 10 p.m ET
How to Watch: ESPN/ESPN+
---
PFL 6 (2023) Predictions
Olivier Aubin-Mercier vs. Anthony Romero
Olivier Aubin-Mercier is the man who won the $1 million prize last year. He became the PFL Lightweight champ by beating Stevie Ray by KO, which was only his second win by this method in his 12+ years-long career.
He started his title defense with a win over Shane Burgos in April. He won the fight by a unanimous decision, thus winning 3 points. What this means is that there's still a danger that he might end up outside the playoff zone after PFL 6.
However, for that to happen, Anthony Romero would have to win on Friday. But this guy just doesn't have the fight portfolio to be considered a decent opponent for Aubin-Mercier. Romero is at zero points as this is his first proper PFL fight. He got himself here by doing relatively well in the PFL Challenger Series last February.
Prediction:
---
Sadibou Sy vs. Shane Mitchell
Sadibou Sy is the winner of last year's PFL Welterweight tournament who's 5-0 since 2021. He's a great striker with amazing stamina, which explains why 50% of his wins happened by KO/TKO, while the other 50% happened by decision.
READ ALSO: UFC on ABC 5: Emmett vs. Topuria Predictions, Fight Card, and Odds (Jun 24)
He beat Jarraj Al-Silawi in the first round of the 2023 season, meaning that he's got 6 points to his name. This means that even if he lost on Friday, he'd (probably) get to the playoffs. But he's not going to lose. His opponent Shane Mitchell just isn't good enough to hope for anything better than a loss in which he won't embarrass himself.
Prediction:
---
Shane Burgos vs. Tamato Nishikawa
When he left the UFC (after three straight losses), Shane Burgos decided to move up a division. He made his lightweight debut on April 14, 2023, in the fight with PFL champ Aubin-Mercier. Although he did okay in that fight, his opponent won over the judges and won by unanimous decision.
As a result, Burgos is now at zero points, meaning that he needs a finish on Friday to make sure he gets to the playoffs. Luckily for him, he should be able to do it. It's because he's fighting Yamato Nishikawa who's 12 years his junior.
The 20-year-old Japanese has been fighting since he was a 13-year-old. So far, he's done okay, but he's just leagues below Burgos in pretty much all aspects of fighting. That said, anything other than an easy win for Burgos would be a huge upset.
Prediction:
---
Clay Collard vs. Stevie Ray
Clay Collard is a great boxer who's got a knockout-to-win ratio of 45.45%, but who's without a finish in his last seven fights. He's got 3 points in the 2023 PFL tournament, but so do another four fighters, meaning that if he doesn't win on Friday, he'll probably end up below the playoff zone.
The trouble is that beating Stevie Ray won't be easy. The runner-up of last year's tournament is in need of a finish as that's the only way he can get to the playoffs. That's why we expect him to go all-in from the very first moment, and who knows, he might pull it off. If there's going to be a surprise on the PFL 5 main card, it's probably going to be this fight.
Prediction: