UFC on ESPN 46 Props, Breakdown, Odds, and Picks (Jun 3)
MMA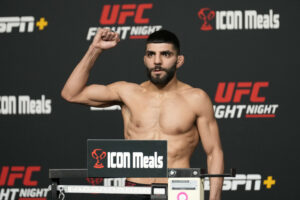 UFC on ESPN: Kara-France is on the program on Saturday, June 3.
Six fights were announced for the main card.
Kai Kara-France vs Amir Albazi headlines the event.
We've got some UFC props for you!
The next UFC event – UFC on ESPN: Kara-France vs Albazi a.k.a. UFC on ESPN 46 – features six exciting main card fights. Each of those we've already previewed in a separate piece, sharing our winner predictions along the way. In this post, however, we're going to focus on MMA prop bets.
---
UFC on ESPN 46
When: Saturday, June 3, 2023, at ~10:00 p.m ET
Where: UFC Apex, Las Vegas, Nevada
Channel: ESPN/ESPN+
---
UFC on ESPN 46 Props
Kara-France vs Albazi Prop Pick
This is going to be the first time either of these fighters is headlining a UFC event. Kara-France did fight one five-round bout, but it lasted for only 14:34 minutes – Brandon Moreno beat him by a TKO in the interim UFC Flyweight Championship fight last summer.
It was his sixth loss inside the distance, while he also has 14 (out of 24) wins inside three rounds. When it comes to Albazi, only three of his 17 professional MMA bouts lasted for a full number of rounds.
Kara-France is a great striker who likes finishing his fights by KO/TKO, while Albazi is a submission expert. We're almost certain we're going to witness a finish in the UFC on ESPN 46 main event, but we're not sure whether it's going to be a knockout or a submission.
---
Alex Caceres vs Daniel Pineda Prop Pick
Daniel Pineda has a submission-to-win ratio of 67.85%, with three of his five wins happening by this method. Further, one of his PFL fights that got overturned was also a submission win. What's also very interesting is that "The Pit" is without a single win by decision in his professional career that started in 2007. If Pineda is going to win, he'll probably do it by submission.
---
Jim Miller vs Jared Gordon Prop Pick
Jared Gordon has a great engine in him, which allows him to throw a huge volume of strikes in each of his fights. He lands 5.32 significant strikes per minute, although they're not too powerful. This explains why he put to sleep only one of his opponents – he's got one KO win and five TKO wins.
READ ALSO: UFC on ESPN: Kara-France vs. Albazi Predictions, Fight Card, and Odds (June 3)
In fact, the last time he won inside the distance was in 2017, on his UFC debut. Considering that he's had a limited time to prepare for the Jim Miller fight, we think "Flash" will probably take a more cautious approach on Saturday. As a result, we should see him win by decision.
---
Tim Elliott vs Victor Altamirano
Victor Altamirano is an excellent striker, but Tim Elliott has plenty of experience with such fighters. This guy managed to stay on his feet for 25 minutes in the title fight against legendary Demetrious Johnson in 2016. Sure, a lot of time has passed since, but we think Elliott can stay undefeated for 15 minutes against Altamirano on Saturday.
---
Karine Silva vs Ketlen Souza
Ketlen Souza is a former Invicta champion who's making her UFC on June 3 against Ketlen Souza. Anything can happen in this fight, with both fighters going all-in. We wouldn't be surprised if this bout was awarded the "Fight of the Night" accolade, after 15 minutes of brutal fighting.
---
Abubakar Nurmagomedov vs Elizeu Zaleski dos Santos
As you'd expect from a Nurmagomedov, Abubakar Nurmagomedov too is a great wrestler. He's also great striking-wise and has great stamina. His striking defense is 66%, which is very important for the fight with Elizeu Zaleski who's a real knockout expert.
The Brazilian fighter has a knockout-to-win ratio of 60.86%, but we don't think he's going to finish Nurmagomedov on Saturday. Instead, we think this fight will go the distance.