UFC on ESPN: Kara-France vs. Albazi Predictions, Fight Card, and Odds (June 3)
MMA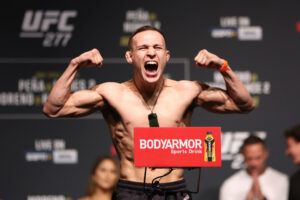 Kai Kara-France vs. Amir Albazi headlines the UFC on ESPN 46 event on June 3.
Jim Miller is fighting Jared Gordon who stepped in on short notice.
Check out our UFC on ESPN: Kara-France vs. Albazi predictions below!
UFC on ESPN: Kara-France vs. Albazi is the next event on the UFC calendar. It's taking place on Saturday, June 3, at UFC Apex in Vegas, and is televised by ESPN, which is why the alternative name of the event is UFC on ESPN 46.
The flyweight fight between Kai Kara-France and Amir Albazi is the main fight of the evening, which might not be too attractive for casuals. However, passionate MMA fans know how good these two can be inside the Octagon.
Not only do we expect Kara-France vs. Albazi to be a real thriller, but we expect the same from all the other main card fights. That's why we've decided to analyze those six fights and share our top picks for each of them. You can see our UFC on ESPN 46 predictions below.
---
Schedule and How to Watch
Where: UFC Apex, Enterprise, Nevada
When: Saturday, June 3, 2023, at 10 p.m ET
How to Watch: ESPN/ESPN+
---
UFC on ESPN: Kara-France vs. Albazi
Kai Kara-France vs. Amir Albazi
Kai Kara-France (24-10-1) is a former UFC Flyweight interim challenger who failed to win the belt in the fight against Brandon Moreno last summer. It was a great fight with each fighter landing 50+ significant strikes. It lasted for nearly 15 minutes before the ref ended the fight, awarding Moreno a TKO win.
It was only the third KO/TKO loss for Kara-France, as well as his first defeat by this method since joining the UFC in 2018. Before the loss in the fight for the interim title, the New Zealand fighter was on a three-fight win streak with two finishes in round 1.
Even though he's got great stamina, this guy loves finishing fights early. He's a fantastic striker with a background in kickboxing and Muay Thai. Kara-France also has experience with Brazilian jiu-jitsu, but he uses his grappling skills mostly for defensive purposes. Defeating him by submission is incredibly hard, but if there's a fighter in the 125-pound division, it's Amir Albazi (16-1).
"The Prince" is almost certainly going to try to take Kara-France down, but he'll probably get hit many times during the process. There's a big question about whether he can withstand the huge volume of punches and kicks his opponents will throw at him from the very start. And even if he takes Kara-France down, we believe in the New Zealander's ability to get back to his feet.
Prediction:
---
Alex Caceres vs. Daniel Pineda
Daniel Pineda is our favorite underdog of the UFC on ESPN 46. He's a black belt in Brazilian jiu-jitsu whose submission-to-win ratio is 67.85%. The reason why his odds are +145 is that he just doesn't have too many wins over elite opponents in his portfolio, especially since not coming back to the UFC.
In his second stint in Dana White's promotion, Pineda is 2-1-1. Not too great, but for both of his wins, he won the Performance of the Night bonus. Further, before coming back to the UFC, he won two fights in the 2019 PFL, both of which ended up overturned after it was discovered he was using a banned substance.
What's interesting is that one of those fights was against Movlid Khaybulaev, who's generally considered one of the best featherweights outside the UFC. Juiced up or not, Pineda was able to beat the Dagestani fighter in 2019, and we think he can do the same to Caceres in 2023.
Prediction:
---
Jim Miller vs. Jared Gordon
Jim Miller is coming back to the Octagon, a true UFC legend who holds the records for most fights and most wins in the history of this promotion. But he's turning 40 this summer and he's been dropped too many times.
In his most recent fight, Alexander Hernandez hit him 108 times – more than anyone else in Miller's 15+ years long UFC career. Hernandez didn't put him to sleep but won by unanimous decision.
But Jared Gordon might do it. Even though he hasn't had much time to prepare for this fight as Miller was originally meant to fight L'udovit Klein, "Flash" has the blueprint for winning over "A-10."
"Flash" is famously good at throwing a huge volume of strikes at the opponent, which seems to be the right strategy for defeating Miller. Plus, he's even more accurate with his punches than Hernandez. We're not sure whether he's going to finish him, but we're pretty certain Gordon will win on Saturday.
Prediction:
---
Tim Elliott vs. Victor Altamirano
Tim Elliott has fought against some amazing wrestlers/grapplers over the last couple of years, but now, he's locking horns with a proficient striker. Sure, Victor Altamirano is great on the floor as well, but his expertise is striking – this guy lands 6.15 significant strikes per minute.
Elliott has experience with excellent strikers as well. After all, he fought Demetrious Johnson in the UFC Flyweight Championship fight back in 2016. He lost to "Mighty Mouse" after five rounds of fighting, but there's no shame in losing to the flyweight GOAT. What would be embarrassing is if we saw him lose to Altamirano at UFC on ESPN 46.
Prediction:
---
Karine Silva vs. Ketlen Souza
The only women's fight on the main card of UFC on ESPN 46 is the flyweight duel between Karine Silva and Ketlen Souza. This is going to be Souza's first fight in the UFC. The former Invicta champion is a fantastic kickboxer with great power. Unfortunately for her, Silva is even better.
Plus, she's got a fine set of wrestling skills and is a great grappler who can control her opponent for a full 15 minutes. Or she can finish her early by submission. And even a KO win for Silva wouldn't surprise us. Either way, we think "Killer" is the one who wins on Saturday.
Prediction:
---
Jamie Mullarkey vs. Guram Kutateladze
Guram Kutateladze is the biggest favorite of all the fighters on the UFC on ESPN 46 main card. This is kind of surprising as the Georgian fighter is 1-1 in the UFC with his only win in the promotion happening by a split decision.
READ ALSO: Men's French Open 2023 Prediction, Preview, and Odds
Despite that, we have faith in this guy. Kutateladze is a real tough guy who pushes forward all the time and is not afraid to get hit. He also doesn't care about getting taken down as he's great on the floor. Jamie Mullarkey might be a more elegant fighter, but Kutateladze's raw power is what's probably going to be the decisive factor in the main card opener.
Prediction: