UFC on ESPN 48: Strickland vs. Magomedov Predictions, Fight Card, and Odds (Jul 1)
MMA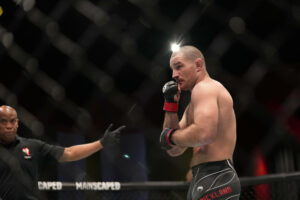 Sean Strickland coming to Vegas as a huge favorite against Abus Magomedov in the main event.
Max Griffin hopeful of upsetting the odds against Michael Morales on Saturday, July 1.
For more UFC on ESPN 48 picks, just keep on reading our betting guide!
We did very well with our UFC picks last Saturday and we hope to do even better on July 1. That's when the UFC on ESPN 48 a.k.a. UFC on ESPN: Strickland vs. Magomedov will take place at UFC Apex in Vegas.
The main event will see a duel between Sean "Tarzan" Strickland who's hoping to get a shot at the middleweight title in the (near) future and Abusupiyan "Abus" Magomedov who's 1-0 in the UFC. He's not an established fighter but the fact that the UFC gave him a chance to headline an event means that they believe he's a great fighter.
Online sportsbooks don't agree judging by their Strickland vs. Magomedov odds which are heavily in favor of the American fighter. If you don't think this is too exciting of a matchup, don't worry, because there are plenty of interesting duels on the fight card, as you'll see by reading this UFC on ESPN 48 predictions piece.
---
Schedule and How to Watch
Where: UFC Apex, Enterprise (Las Vegas), Nevada
When: Saturday, July 1, 2023, at 10 p.m ET
How to Watch: ESPN
---
UFC on ESPN 48 Predictions
Sean Strickland vs. Abusupiyan Magomedov
Abusupiyan Magomedov has only fought once in the UFC so far, so it's kind of surprising that he got to headline next weekend's event. What recommended him for the main event of UFC on ESPN 48 is that he KO-ed his opponent (Dustin Stoltzfus) on his UFC debut after only 19 seconds.
It was the 14th KO/TO win in his career, but he's not just about striking. As you'd expect from a fighter from Dagestan, Abus is also a fine wrestler. But so is Sean Strickland. And "Tarzan" might be even better striking-wise.
Sure, he's without a KO win in almost three years, but it's because he's fought so really tough opponents in the meantime. In his most recent fight, he beat Nassourdine Imavov, a Dagestani-French light heavyweight fighter in what was his first-ever fight in the 205lb division. Six months after the win, he's coming back to the middleweight division, and we think it's going to be a successful comeback.
Prediction:
---
Damir Ismagulov vs. Grant Dawson
Damir Ismagulov is one of the best strikers in the lightweight division who can outbox almost anyone. The evidence of this is that his pro record is 24-2. One of those two losses, however, happened in his most recent fight. He lost to Arman Tsarukyan by a unanimous decision.
Ismagulov landed just 36 significant strikes in that fight, his lowest number since joining the UFC in 2018. What happened there is that Tsarukyan completely outwrestled him, making 7 takedowns that evening. On July 1, he's taking on another great wrestler; will he do better this time?
The Russian-Kazakh fighter's had six months to work on his takedown defense, so he's likely ready to put on a good show against Grand Dawson.
Prediction:
---
Max Griffin vs. Michael Morales
Michael Morales is 12-0 in his professional career, but he's never fought against such an elite opponent as Max Griffin who's 19-9. Actually, his biggest success is the TKO win over Adam Fugitt in his most recent fight, almost a year ago. It was Fugitt's promotional debut, which we saw him lose in the third round after two pretty even rounds.
READ ALSO: George Kambosos vs Maxi Hughes Prediction, Preview, and Odds (July 22)
Morales outboxed Fugitt in that fight and won only after his opponent gassed out. This time, he's fighting a much better boxer who's got a real engine in him. Griffin's last three fights lasted until the final bell, and two bouts before that saw him win by KO/TKO. We think he's got the skills and stamina needed to win the July 1 fight.
Prediction: Max Griffin to win
---
Ariane Lipski vs. Melissa Gatto
Ariane Lipski seems to have problems when fighting aggressive strikers. The evidence is that 50% of her career losses happened by KO/TKO. What's interesting is that in her last five fights, she lost three times by technical knockout.
What's also interesting is that each time she lost by a decision in the UFC, it happened against a great kickboxer – Molly McCann and Joanne Calderwood.
Melissa Gatto might not be an expert striker, but she is a brawler who likes to be the one to attack. Plus, both of her wins in the UFC happened by TKO. That said, Lipski looks like an ideal victim for Gatto.
Prediction:
---
Ismael Bonfim vs. Benoit Saint-Denis
Ismael Bonfim is 19-3 overall with all of his losses happening by submission. However, he's without a single loss since 2014. The Dana White Contender Series alumnus is a fantastic striker with a decent set of BJJ skills. Plus, since joining the UFC, his TD defense has been immaculate.
The trouble for him is that he's taking on Benoit Saint-Denis who's a great wrestler and an even better grappler. He makes 1.68 takedowns per fight, but the number is low because he tends to turn those TDs into submissions. The former French commando has a submission-to-win ratio of 80%.
He also has a great chin, the evidence being that he's never been finished even though he's fought some really good strikers.
Prediction: