UFC on ESPN+ 82: Aspinall vs. Tybura Props, Breakdown, Odds, and Picks (Jul 22)
MMA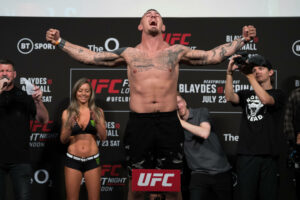 Eleven of Tom Aspinall's 12 career wins happened in the first round.
Molly McCann is 3-0 in fights in London, twice winning by a TKO.
Paul Craig usually does well against grapplers like his UFC on ESPN+ 82 opponent.
We've got some UFC on ESPN+ 82 props for you!
It's time for a brand-new set of UFC props. This time we're going to analyze the most interesting prop bets for UFC on ESPN+ 82, also known as 2023 UFC London as it's taking place at the O2 Arena in the UK capital.
The reason why this fact is important is that we suspect that with the help of their fans, fighters from England and Scotland are going to do well on Saturday, July 22. We predict that some of them will finish their opponents by KO/TKO, some will win by submission, while some will win over the judges' affection and win by points.
---
Schedule and How to Watch
Where: The O2 Arena, London, England
When: Saturday, July 22, 2023, at 3 p.m ET
How to Watch: ESPN+
---
UFC London Props
Tom Aspinall vs. Marcin Tybura Prop Pick
Before suffering an injury after just 15 seconds in his previous fight, Tom Aspinall was 5-0 in the UFC, with three wins by KO/TKO and two by submission. Four of those happened in the first round, while the fight with Andrei Arlovski lasted until 1:09 in the second round.
Aspinall is a guy who likes to end his fights quickly, and we're 100% sure he's gonna try to do it on July 22. He's got the motivation to get another impressive win as it would get him back into the spotlight in the UFC Heavyweight division.
Molly McCann vs. Julija Stoliarenko Prop Pick
Like her fellow Englander Tom Aspinall, Molly McCann is also looking to make herself relevant again. She's coming off an embarrassing first-round submission loss to Erin Blanchfield, which, as per her own admission, had a horrible effect on her emotional state.
But she's had more than eight months to lick her wounds and prepare for her return. The good news for Molly is that her comeback is scheduled for UFC on ESPN+ 82, which is taking place at The O2 Arena in London, where she's 3-0. In fact, both of her two most recent wins happened in the English capital, with "Meatball" winning each time by TKO and getting herself the Performance of the Night bonus.
You can be 100% sure she'll go for another knockout this coming Saturday, but that can backfire easily. It's just that she's taking on an incredible grappler who can easily beat her by submission if the fight goes to the ground.
Although we doubt that will happen, we do think that the safest bet for the McCann vs. Stoliarenko fight is under 2.5 rounds.
---
Nathaniel Wood vs. Andre Fili
The Nathaniel Wood hype keeps increasing as he keeps on impressing. The English mixed martial artist is 2-0 since moving to the featherweight division, with wins over Charles Rosa and Charles Jourdain. He's still without a finish in this division, but backed by the London crowd, he might get one on Saturday.
Wood is fighting Andre Fili, a guy who's got two split-decision wins, three losses, and one no-contest since the start of the decade. Wood should be able to beat this guy by KO/TKO.
---
Paul Craig vs. Andre Muniz Prop Pick
Paul Craig lost his last two fights, but each time he fought an incredible striker. He just doesn't do well against those sorts of fighters, but that shouldn't worry him ahead of the UFC London fight with Andre Muniz. The thing is that the Brazilian just doesn't have the power nor the striking prowess to beat "Bearjew" by KO/TKO.
He does stand a chance if this turns into a grappling contest, which we think it will. Still, we have faith in Craig to outsmart his opponent on the ground. After all, he's done it many times in the light heavyweight division (15 times to be precise), beating by submission such tough opponents as Nikita Krylov and Magomed Ankalaev. We think he can do something similar on his middleweight debut.
---
Jai Herbert vs. Fares Ziam
Jai Herbert used to rule the Cage Warriors realm, but since coming to the UFC, the English lightweight has had two wins, three losses, and one draw. He's expected to lose again, this time against rising French star Fares Ziam.
Ziam is a well-rounded fighter who's got a background in BJJ, but who prefers fighting on his feet. Herbert just doesn't seem capable of striking this guy, with his only route to victory probably being to try and take Ziam down to hold him for as much as possible. Either way, we think it's very likely this fight will last for a full 15 minutes.
---
Lerone Murphy vs. Joshua Culibao
Lerone Murphy wants to stay undefeated for at least another fight. He's got 12 wins in his portfolio, along with one draw. Seven of those wins happened by a KO/TKO, while he's still on zero wins by submission.
Still, he's a decent grappler, who's been using those skills for defensive purposes. His Achilles Heel, however, is wrestling. In the five UFC fights he's fought so far, he suffered a total of 17 takedowns, with 5 TDs in each of his last two fights.
READ ALSO: UFC Fight Night: Aspinall vs. Tybura Predictions, Fight Card, and Odds (Jul 22)
Obviously, Joshua Culibao is aware of this, and he'll almost certainly try to take him down. That's why Murphy will probably look to finish him by KO/TKO before he gets a chance to do so.