Baltimore Ravens 2023-24 NFL Playoff Odds and Prediction
NFL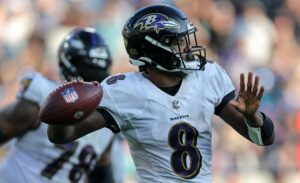 The Ravens returned to the playoffs last season, but lost to Cincinnati.
They're aiming for their 2nd playoff win over the past eight seasons.
QB Lamar Jackson signed a 5-year, $260 million contract extension.
As the 2023-24 NFL season approaches, let's take a look at the Baltimore Ravens' playoff odds and weigh their chances of making the postseason this year. They'll have a good chance of improving further in 2023.
---
Playoff Odds
---
Team News
The Ravens returned to the playoffs in 2022 after missing them in 2021, but were beaten by the Bengals in the Wild Card round. It was still an improvement, but they'll be fighting for the division title this season. With QB Lamar Jackson locked up with a massive contract extension, Baltimore drafted WR Zay Flowers in the 1st round of the 2023 NFL Draft, giving Jackson a new weapon. They also signed Odell Beckham Jr.
With new weapons for Jackson and one of the league's top defenses, the Ravens should be contenders again this year. A key factor will be the health of RB JK Dobbins, who has been exceptional in the limited time when he hasn't been injured. If Dobbins remains healthy, Baltimore's offense could elevate to a whole new level. They also signed veteran RB Melvin Gordon to provide some additional depth behind Dobbins.
---
Prediction
The Ravens made the playoffs last season and improved their roster by a solid amount over this past offseason. That should give them the formula to return to the postseason, though making a deep run in a stacked AFC conference won't be easy. They can't afford to make many mistakes in a stellar AFC North division, but the newly extended Lamar Jackson should be able to lead Baltimore back to the playoffs.