Argentina Copa de la Liga Profesional Preview: Boca Juniors vs. River Plate Prediction, Odds, and Picks (Oct 1)
Soccer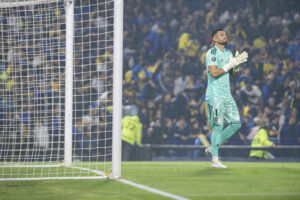 Boca Juniors vs. River Plate a.k.a. El Superclasico might be the fiercest soccer rivalry on the planet.
The game is played on Sunday at La Bomboniera where Boca Juniors is without a loss to River Plate since 2018.
Boca Juniors played 0-0 with Palmeiras in the Copa Libertadores semifinal earlier this week.
It's time for the first El Superclasico of the 2023 Argentina Copa de la Liga Profesional. The 260th duel between Boca Juniors and River Plate will take place on Sunday, October 1, at Estadio Alberto J. Armando a.k.a. La Bonbonera in Argentina's capital, Buenos Aires. That's the place where River Plate hasn't won a single game in more than five years. Will that change this weekend?
---
How to Watch
When: Sunday, October 1, 2023, at 1:00 p.m ET
Where: La Bonbonera, Buenos Aires, Argentina
How to Watch: Paramount+
---
Odds
| Game Result | Odds |
| --- | --- |
| Boca Juniors | +260 |
| Draw | +230 |
| River Plate | +110 |
---
Game Preview
On Thursday evening, Boca Juniors played 0-0 with Palmeiras in the first game of the 2023 Copa Libertadores semifinal. Three days later, Jorge Almiron's men play another big game. Actually, as its name suggests, El Superclasico is a huge game.
The Boca Juniors vs. River Plate duel is thought to be one of the world's most intense derbies. La Bonbonera is going to be packed and most of the spectators will be rooting for Boca. Will this have an impact on what's happening on the field?
It sure will, the evidence being that Boca usually does well in Superclasicos played on its turf. The home team is without a loss in each of the last seven Boca Juniors vs. River Plate duels played at La Bombonera.
READ ALSO: MLS Preview: Inter Miami vs. New York City FC Prediction, Odds, and Picks (Sep 30)
Even if the game wasn't played on Boca's turf, this team would still stand a good chance against River Plate. The thing is that Boca's roster looks very good in 2023. This team has a couple of veterans with plenty of experience with big games (e.g., Edinson Cavani), as well as some rising stars (e.g., Valentin Barco) who are determined to prove how good they are.
---
Boca Juniors vs. River Plate Prediction
Boca Juniors players have a lot on their minds, given that they've reached the semifinal of the Copa Libertadores. However, for people in Argentina, El Superclasico is even more important than that. This is why you can be sure that Boca Juniors will go all-in on Sunday afternoon and with their fans to cheer them on, they should be able to beat their archrivals.
Free Pick: