2023 US Open Final: Novak Djokovic vs. Daniil Medvedev Prediction, Odds, and Picks (Sep 10)
Tennis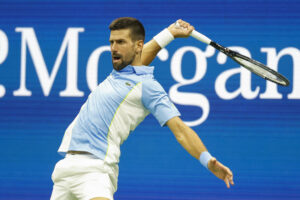 Novak Djokovic is favored to win his fourth US Open title on Sunday, September 10.
Daniil Medvedev won his first (and only) major by beating Djokovic 3-0 in New York two years ago.
Novak Djokovic has made it to his 10th US Open Final with a chance to win his fourth title in the American Grand Slam, the first one since 2018. The only man standing in his way is Daniil Medvedev, a 6'6 Russian who won this tournament two years ago.
---
How to Watch
When: Sunday, September 10, 2023 at 4 p.m ET
Where: Arthur Ashe Stadium, New York City, New York
How to Watch: ESPN+
---
Odds
---
Match Preview
Novak Djokovic is moving to the top of the ATP List after the 2023 US Open, regardless of what happens in the final. The thing is that he didn't play in last year's tournament after not getting an entry to the United States on the grounds of being unvaccinated.
He's not defending any points from last year, unlike the current No.1, Carlos Alcaraz, whose 2023 US Open journey ended on Friday in the match with Daniil Medvedev.
READ ALSO: 2023 FIBA World Cup Final: Serbia vs. Germany Prediction, Odds, and Picks (Sep 10)
The Russian beat him 3-1 after three hours and 22 minutes on the court. As a result, Medvedev now has a chance to battle for the second major title of his career. He won the first one – the 2021 US Open – after beating Novak Djokovic 3-0 in the final. Can he do it again?
---
Medvedev vs. Djokovic Prediction
Novak Djokovic is widely considered the tennis GOAT, and he's got the facts to prove he really is the best. He's currently the man with the most Grand Slam titles, and he's also moving to the No. 1 spot in the ATP Rankings. Further, if he wins on Sunday, Djoker will even Rafael Nadal's US Open record.
Another thing going in his favor is that he's had an easier job in the semifinal than Medvedev. He defeated Ben Sheldon in three sets. In fact, he's had a pretty easy ride since coming to New York, with the US Open Final being his toughest match since the Cincy Final in August, in which he defeated Alcaraz 2-1.
Free Pick: