2023 FIBA World Cup Final: Serbia vs. Germany Prediction, Odds, and Picks (Sep 10)
NBA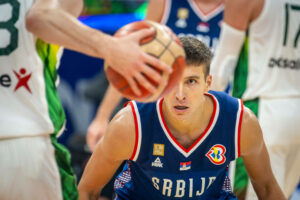 Germany and Serbia will play for the 2023 FIBA World Cup trophy on Sunday, September 10.
Serbia stands a chance to break the record for most gold medals at the FIBA World Cup.
Serbia's players are motivated to win the trophy for Borisa Simanic who lost his kidney in this tournament.
Being the legal heir to Yugoslavia, Serbia has five FIBA World Cups in its collection, the same as Team US. However, unlike the United States, Serbia has a chance to win another one this Sunday when The Eagles play for the gold in the 2023 FIBA World Cup Final against Germany.
---
How to Watch
When: Sunday, September 10, 2023 at 8:40 a.m ET
Where: Mall of Asia Arena, Pasay, Philippines
How to Watch: ESPN+
---
Odds
---
Game Preview
Twenty-one years have passed since Yugoslavia won the FIBA World Cup for the fifth time in the country's history. All of the players from the trophy-roster roster have been in retirement for years, but not the coach. He's still very much active.
The man in question is 74-year-old Svetislav "Kari" Pesic who's now in charge of Yugoslavia's heir Serbia. Pesic doesn't have Serbia's biggest star Nikola Jokic at his disposal, but this team isn't about individual prowess but disciplined team play.
This team's standout player has been Bogdan Bogdanovic, a guard for the Atlanta Hawks, who's been sensational from the three-point field-goal line. He's been their best offensive player, but Serbia's strongest weapon during the 2023 Basketball World Cup has been its defense.
There's only one team that's managed to score more than 80 points against Serbia – it's Canada whom Pesic's boys defeated 95-86 in the semifinal on Friday. It was kind of surprising as Canada's roster is packed with NBA stars. Still, the biggest upset of the entire tournament happened in the other semifinal, in which we saw Germany beat Team US 113-111.
READ ALSO: 2023 US Open Final: Novak Djokovic vs. Daniil Medvedev Prediction, Odds, and Picks (Sep 10)
The Germans were brilliant offensively, but we do feel as if the Americans didn't try too hard in the defense in that match.
---
Serbia vs. Germany Prediction
Having a chance to become the basketball champion of the world is good enough motivation for anyone to give their best. But Serbia has one special reason to do so, a personal one. The thing is that one of its players, Borisa Simanic, suffered a horrible injury in the game against South Sudan, for which the doctors had to remove one of his kidneys.
The guy is still in the hospital but is doing alright. And he'd do much better emotionally if his teammates managed to win the gold in the FIBA World Cup Final on Sunday. We think they're going to pull it off – Serbia will win it for Borisa.
Free Pick: