2023 Wimbledon: Marketa Vondrousova vs. Ons Jabeur Prediction, Odds, and Picks (Jul 15)
Tennis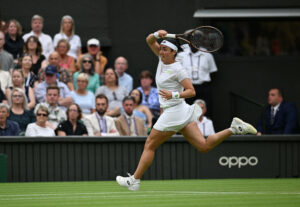 Marketa Vondrousova vs. Ons Jabeur is the match that will decide the 2023 Wimbledon Women's Singles champion.
Marketa Vondrousova is the first unseeded WTA Wimbledon finalist in 60 years.
Ons Jabeur made it to the 2023 Final after pulling off a great comeback in the semifinal.
Marketa Vondrousova is the first unseeded Wimbledon finalist since Billie Jean King in 1963. King failed to win the trophy 60 years ago, but maybe Vondrousova can pull it off in 2023?
Not if you're asking her opponent Ons Jabeur. The Tunisian player barely missed her chance to win the Wimbledon trophy last year and is determined not to let it slip through her fingers this time.
---
Schedule and How To Watch
When: Saturday, July 15, 2023, at 9:00 AM ET
Where: Wimbledon Centre Court, London, UK
How to Watch: ESPN/ESPN+
---
Odds
---
Match Preview
Marketa Vondrousova has had a sort of easy ride at the 2023 Wimbledon, with the highest-ranked player she's defeated so far being the WTA No. 4 Jessica Pegula. The two met in the quarterfinal and the Czech player won 2-1 in sets.
READ ALSO: MLS Preview: Chicago Fire vs. Toronto FC Prediction, Odds, and Picks (Jul 15)
In the semifinal, she defeated the Ukrainian sensation Elina Svitolina, who was probably way too tired after knocking out such heavyweights as Iga Swiatek and Victoria Azarenka.
That said, Vondrousova's hardest challenge comes in the form of Ons Jabeur whom she'll battle for the 2023 Wimbledon trophy. The Tunisian player came very close to winning this tournament last year, but Elena Rybakina crushed her dreams in the final.
Jabeur has already gotten her revenge on the Kazakhstani player, beating Rybakina 2-1 in the quarterfinal. Then, in the semifinal, she beat the WTA No. 2 Aryna Sabalenka, once again in three sets.
She entered that match as an underdog, and at the beginning, it seemed the bookies were right to favor the Russian player. After losing the first set, however, Jabeur switched into top gear and beat her opponent in the following two.
---
Marketa Vondrousova vs. Ons Jabeur Prediction
The fact that Vondrousova is 42nd in the WTA Rankings, while Jabeur is sitting in the No. 6 spot explains why Wimbledon odds are favoring the Tunisian. Sure, upsets do happen at Wimbledon, but we have faith in Jabeur to get the job done on July 15.
Free Pick: