MLS Preview: Chicago Fire vs. Toronto FC Prediction, Odds, and Picks (Jul 15)
Soccer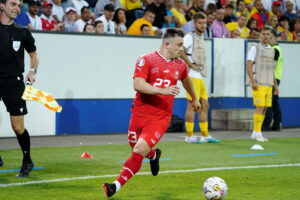 Chicago Fire's attackers playing top soccer lately.
Toronto FC's offense really needs to step up.
Check out our Chicago Fire vs. Toronto FC prediction below!
Saturday's Chicago Fire vs. Toronto FC MLS game is a duel between two teams from the bottom half of the Eastern Conference table. In fact, just a few weeks ago, both of these teams were very close to the bottom of the standings. However, the Fire have upped their form recently, winning four of their last five MLS games; "The Reds" from Toronto have not. This explains why betting odds are in favor of the home team.
---
How To Watch
When: Saturday, July 15, 2023, at 8:30 p.m ET
Where: Soldier Field, Chicago, Illinois
How to Watch: Apple TV
---
Odds
---
Game Preview
Chicago Fire is ninth in the MLS Eastern Conference with 29 points after 22 games. Frank Klopas's men are 7-8-7 so far, with a score difference of 30-31. This makes them one of the best offenses in the conference, as well as one of the worst defenses in the East.
That's no surprise given that Klopas likes his team to attack as much as possible, not caring too much about their net. Another reason why there've been 2.77 goals on average in Chicago Fire's games in the 2023 MLS is that this team's best players are forwards – Xherdan Shaqiri, Maren Haile-Selassie, Brian Gutierrez, and Georgios Koutsias.
It's a similar case when it comes to Toronto FC. "The Reds" too have some amazing forwards, but unlike those playing for Chicago, these guys have been completely out of shape. Toronto FC is (by far) the team with the least number of goals scored in the East (18 in 23 games), with only one goal in the last five MLS rounds.
READ ALSO: CONCACAF Gold Cup Final: Mexico vs. Panama Prediction, Preview, and Odds (July 16)
Two Italian forwards who were supposed to lead this team to glory – Lorenzo Insigne and Federico Bernardeschi – have scored only six goals between them. Further, the last time one of them scored a goal for Toronto (Insigne) was more than a month ago. Maybe it's time for that to change?
---
Chicago Fire vs. Toronto FC Prediction
Toronto FC is without a win since May, and we don't think that will change this weekend. However, we do think the visitors from Canada are going to put on a much better performance than they did in each of their previous five MLS games, all of which they lost.
We're almost 100% certain Toronto will score on Saturday, but we're not sure whether that will be enough to grab even a single point. The thing is that at this point, Chicago's offense looks unstoppable.
Free Pick: