Royal Ascot King Charles and Royal Family Props Odds, Preview, and Picks (2023)
Horse Racing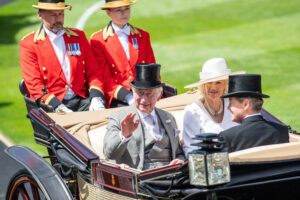 Royal Ascot meeting kicks off on Tuesday, June 20
The event will be attended throughout the week by the Royal Family
There are few more star-studded events throughout the year than Royal Ascot. The event attracts A-Listers from around the world, as well as the Royal Family. Queen Elizabeth II was a huge fan of horse racing throughout her life, and even landed a famous win in the Ascot Gold Cup with Estimate in 2013. This year's meeting will once again be attended by royalty, and the latest Royal Ascot props centered around the Royal Family can be found below.
---
Schedule and How To Watch
When: From Tuesday, June 20, 2023, at 9:30 a.m. ET
Where: Ascot Racecourse, London, England
How To Watch: NBC
---
Primary Color of The King's Tie At Royal Ascot
Odds
Preview
This will be the first Royal Ascot with Prince Charles on the throne. The King attended the meeting last year, but there will be extra significance in 2023, as he will be front and center in the Royal Precession to kick off the day. There will be a few royal runners to cheer on throughout the opening day, and we could see him sporting the colors of the Royal runners, meaning blue could the standout selection.
Royal Ascot King Charles Prop Pick
READ MORE: F1 Picks: Canadian Grand Prix Prediction, Preview, and Odds (June 18)
---
Kate Middleton Dress Color Odds
Odds
Preview
Kate Middleton is also no stranger to Royal Ascot, having attended multiple racedays over the last couple of years. The Princess of Wales often wears bright colors when attending the meeting, with the Royal having worn bright blue, white, and pink in previous visits. Therefore, we could see the Princess of Wales wearing a white dress this year.
Royal Ascot Prop Pick
---
How Many Days Will King Charles Attend Royal Ascot
Odds
Preview
Horse racing fans will be hoping that King Charles warms to Royal Ascot and can follow in the footsteps of his mother as being one of the great ambassadors of the sport. Charles isn't a natural lover of the sport, unlike Queen Elizabeth, but there is an expectation that Charles will attend at least two days at Ascot this year. If the rumors are to be believed, the King will be there on all five days.
Royal Ascot King Charles Prop Pick