2023 PFL 5 Predictions: Fight Card, Vegas Odds, and Picks (June 16)
MMA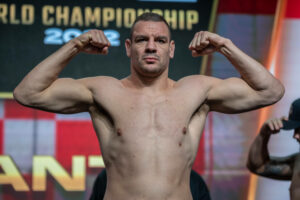 The PFL 5 event of the 2023 season is on the program on June 16 in Atlanta.
PFL heavyweights and women's featherweight fighters fight for a place in the playoffs.
Last year's PFL Heavyweight tournament winner Ante Delija needs a quick win on Thursday.
The 2023 PFL 5 is on the program on June 16, 2023, at Overtime Elite Arena in Atlanta. This is going to be a crucial event for heavyweights and women's featherweight fighters in their quest for playoffs.
The heavyweight who won the $1 million prize last year – Ante Delija – is one of the guys who need to win to qualify for the next stage. And he needs an early win so that he can collect as many ranking points as possible.
The same goes for a few other heavyweights who are still on zero points in the 2023 PFL. It's a similar situation with a couple of fighters in the women's featherweight division. They all need to win, but only some of them will actually do it. So which ones will grab a win on June 16? Keep reading this PFL 5 preview for answers!
---
Schedule and How to Watch
Where: Overtime Elite Arena, Atlanta, Georgia
When: Saturday, June 16, 2023, at 6:30 p.m ET
How to Watch: ESPN
---
PFL 5 (2023) Predictions
Ante Delija vs. Maurice Greene
Ante Delija's odds for 2023 PFL 5 are -500 at BetUS, suggesting that he's a huge favorite to win on June 16. No surprise there as the reigning champion is hungry for wins. He missed the first heavyweight round of the 2023 PFL season, which is why he now has zero points.
In order to qualify for the playoffs, he needs an early win against Maurice Greene – a first-round win would bring 6 points his way.
Prediction:
---
Larissa Pacheco vs. Amber Leibrock
The women's lightweight champion Larissa Pacheco is the biggest favorite of the PFL 5 event, with odds of -1200. She beat Julia Budd by decision in the first fight of the 2023 PFL women's featherweight tournament, so she now has 3 points. What this means is that there's still a danger that she won't make the playoffs.
This is why she needs a win over Amber Leibrock who's coming off a Round 1 KO win over Martina Jindrova. Pacheco doesn't need to rush things on June 16, but she does need to make sure she grabs a win. We have no doubt she's gonna do it.
Prediction:
---
Aspen Ladd vs. Karolina Sobek
Aspen Ladd lost to Olena Kolesnyk on points in the first round, after her opponent missed weight. Despite losing, Ladd did not embarrass herself in that bout, which is something that's giving her confidence ahead of the PFL 5 duel with Karolina Sobek.
Ladd is a much better fighter than Sobek, not to mention that she has way more experience, even fighting in the UFC in the past.
Prediction:
---
Renan Ferreira vs. Matheus Scheffel
In his most recent fight, Matheus Scheffel got demolished by Bruno Cappelozza. However, the fight was later declared a no contest after Cappelozza tested positive for a banned substance.
His opponent Renan Ferreira also suffered a defeat in the first round of the PFL heavyweight tournament of 2023. He lost to Rizvan Kuniev by a unanimous decision. Despite the loss, he wasn't too bad in that fight. In fact, he showed that he's a decent fighter who can do well in the cage.
Ferreira's without a win in his last three fights, which is another motivation for him to give his utmost in PFL 5.
Prediction:
---
Denis Goltsov vs. Yorgan De Castro
Denis Goltsov is a big 6'5 guy with a long reach, which, by default, makes him a decent boxer. However, "The Russian Bogatyr" prefers to take the fight to the ground. He's a great wrestler who's way stronger than his next opponent, Yorgan De Castro.
READ ALSO: UFC on ESPN 47: Vettori vs. Cannonier Predictions, Fight Card, and Odds (Jun 17)
This explains why, even though De Castro is a former UFC fighter, he's seen as a huge +500 underdog against Goltsov.
Prediction:
---
Julia Budd vs. Martina Jindrova
Both fighters are on zero points ahead of the final round of the 2023 PFL women's featherweight regular season. In the first round, Julia Budd lost to Pacheco by a unanimous decision, which is nothing to be embarrassed about.
Martina Jindrova, however, got destroyed by Amber Leibrock. She lost by a brutal KO (head kick) in the first round. The loss has probably traumatized her, so no one should expect to see her bounce back anytime soon.
Prediction: