UFC on ESPN 47: Vettori vs. Cannonier Props, Breakdown, Odds, and Picks (Jun 17)
MMA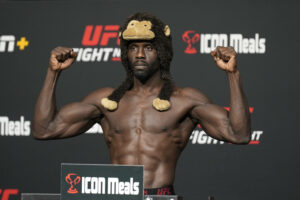 Vettori vs. Cannonier prop "fight to go the distance" looks like a very good bet at -155.
Will (or should we say "when will") Arman Tsarukyan finish Joaquim Silva in the UFC on ESPN 47 co-main event?
UFC on ESPN 47: Vettori vs. Cannonier prop picks for all main card fights below!
MMA fans, we've got some great news for you! A very interesting UFC event is on the program in a few days' time. What we're talking about is UFC on ESPN 47 a.k.a. UFC on ESPN: Vettori vs. Cannonier. As you've probably figured out, this event is televised by ESPN (and streamed by ESPN+).
Not only can you watch this event, but you can also bet on it. If you need help with guessing the outcome of the fights, you can check out our top betting picks in our Vettori vs. Cannonier Predictions piece. And if the fight-winner market is not your cup of tea, worry not, because we've got some UFC props for you!
In this post, we're going to present you with our top prop picks for every fight on the main card.
---
Schedule and How to Watch
Where: UFC APEX, Las Vegas, Nevada
When: Saturday, June 17, 2023, at 10 p.m ET
How to Watch: ESPN
---
UFC on ESPN 47 Props
Marvin Vettori vs. Jared Cannonier Prop Pick
Jared Cannonier has promised to finish Vettori, which he believes would get him another shot at the middleweight title. If he fulfills his promise, it's going to be the first-ever loss inside the distance for Marvin Vettori.
However, we don't think that's going to happen. Sure, "The Killa Gorilla" is a great finisher with a knockout-to-win ratio of 62.5%. But this doesn't worry "The Italian Dream" too much. After all, he's already fought many knockout experts – Paulo Costa (78.57%), Israel Adesanya (66.66%), and others.
We don't think Cannonier can finish Vettori, but what about the other way around? Although Vettori does have what it takes to finish his opponents, the 29-year-old has been a marathon fighter over the last couple of years. In fact, since joining the UFC in 2016, he's fought 12 bouts and 10 of those lasted until the final bell.
---
Arman Tsarukyan vs. Joaquim Silva Prop Pick
Arman Tsarukyan is a well-rounded fighter with a great fight IQ, who's patient and composed in every fight. Joaquim Silva is just the opposite. This guy likes to take risks, which explains why each of his four previous UFC fights saw a KO/TKO finish – he did it to two opponents, while another two did that to him.
Tsarukyan is seen as a huge favorite in the June 17 co-main event, and it really isn't a question of who's gonna win the fight. Instead, it's when the fight will end.
READ ALSO: 2023 PFL 5 Predictions: Fight Card, Vegas Odds, and Picks (June 16)
We think Tsarukyan is going to test the waters in Round 1 to see what the best way is to finish Silva (and not get finished while trying). It's the second round in which we think he's gonna go on the offensive. And when he goes all-in on Silva, that's the end of the fight.
---
Armen Petrosyan vs. Christian Leroy Duncan Prop Pick
Christian Leroy Duncan is 8-0 in his professional career and seven of those were finishes. Six times he won by KO/TKO, which is what we suspect he might do on Saturday as well.
Still, knowing that Armen Petrosyan is a dangerous fella as well (with an 8-2 record and six wins by KO/TKO), our best prop bet for this fight won't involve the winner. Instead, our prop pick is that Petrosyan vs. Duncan will not go the distance.
---
Pat Sabatini vs. Lucas Almeida Prop Pick
Pat Sabatini is a collegiate wrestler-turned-expert grappler with a BJJ black belt. Knowing this, it's almost certain that he's gonna go for a takedown against Lucas Almeida on Saturday, trying to get a submission win.
Almeida's never lost a fight by a finish, but that's because he hasn't fought an opponent as good as Sabatini. We think Sabatini will beat Almeida by submission, although a "ground-and-pound" win wouldn't surprise us either.
---
Manuel Torres vs. Nikolas Motta
Manuel Torres is 13-2 with each of his last six wins happening in the first round. He'll try to prolong his run, thus risking getting put to sleep by Nikolas Motta.
We think both fighters have the ability to KO one another, which is why our prop pick for this fight is that it won't last for too long.