New Orleans Saints 2023-24 NFL Playoff Odds and Prediction
NFL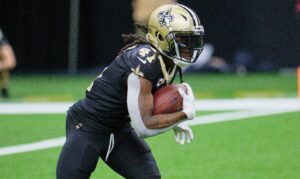 The Saints finished in a 3-way tie for last in the NFC South at 7-10.
QB Derek Carr was picked up over the offseason to aid the offense.
The acquisition of Carr vaulted them to division favorites in 2023-24
As the 2023-24 NFL season approaches, let's take a look at the New Orleans Saints' playoff odds and weigh their chances of making the postseason this year. They'll have a good shot at winning the division.
---
Playoff Odds
---
Team News
The Saints remained in contention for much of last season thanks to a weak NFC South division, but ultimately ended up finishing 7-10 and missing the postseason. It was the 2nd consecutive season without a playoff appearance for New Orleans, after they had made it in the four previous years. Their 7-10 record was the franchise's worst record by win percentage since 2005. They'll aim to bounce back this season.
To kick-start that rebound, the Saints acquired QB Derek Carr, who has played at a consistently high level throughout his career. New Orleans has struggled to find consistency at the QB position since Drew Brees retired, with Taysom Hill and Jameis Winston taking most of the snaps over the past few years. With Carr joining the team, New Orleans' offensive weapons, Alvin Kamara and Michael Thomas, should also benefit.
---
Prediction
It's hard to project the winner of the NFC South division, after all 4 teams finished within 1 game of each other last season. That being said, the Saints are definitely the front-runner thanks to their acquisition of Derek Carr. They boast one of the league's most intimidating defenses, needing only decent offensive play to compete. With Carr at the helm, I see New Orleans finishing the season 9-8 and winning the division.