Soccer: All You Need to Know, Positions, Game Time, How to Bet, and More
Soccer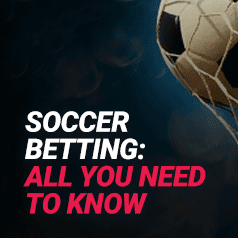 All you need to know about soccer.
Which soccer positions are most commonly used.
Cristiano Ronaldo and Lionel Messi among best soccer players of all time.
Soccer is the world's most popular sport.
According to recent studies, soccer has over 3.5 billion fans worldwide, 1 billion more than the next popular which is cricket.
If you are interested to learn more about soccer, don't worry, VegasOdds has you covered.
Jump to:
Soccer Positions
Goalkeeper
Usually referred to as a team's 'number one' due to the jersey a goalkeeper often, but not always, wears.
Every team must start a match with a goalkeeper in goal but if the goalkeeper is injured or sent off during the game, a team can put an outfield player in goal.
Right-Back
The right-back position is a defensive position and refers to the player who is the furthest right on a team's backline.
Left-Back
The left-back position is a defensive position and refers to the player who is the furthest left on a team's backline.
Center-Back
A team will usually field two center-backs, side by side, in between their right and left-backs.
Although teams will sometimes field three center-backs and two wing-backs instead of two full-backs and two center-backs, the most common backlines are made up of a right-back, a left-back, and two center-backs.
Defensive Midfielder
Sometimes teams will play with two defensive midfielders, but the most offensive sides will generally only use one.
The defensive midfielder plays in front of the center-backs and is usually instructed to help win back possession from the opposition team before they reach the backline.
Central Midfielder
The central midfielder is one of the most important positions on the field.
Teams sometimes pack their midfield and will play with as many as three central midfielders, but seeing two sitting in front of a lone defensive midfielder is the most common formation used.
A central midfielder must be the most well-rounded player on a team.
Their key duties usually include winning possession back, playing accurate passes, shooting from distance, and dictating the tempo their team plays at.
Right Winger
A right-sided attacker often referred to as a 'right-winger' will position themselves as his team's most forward attacker on the righthand side of the pitch.
A right-winger's job is to dribble the ball down the right side of the pitch and either get crosses into his opponent's area for his team's striker to try and score or cut inside and look to score himself.
Left Winger
The same as the right-winger, a left-winger's job is to dribble the ball down the left side of the pitch and either get crosses into his opponent's area for his team's striker to try and score or cut inside and look to score himself.
Center-Forward
A team's striker is the focal point when it comes to attacking.
Soccer used to see two strikers play side-by-side, however, as the game has evolved over the years, fans are more familiar with seeing two-wingers and one striker spearhead a team's attack.
How Long is a Soccer Game?
A regular soccer game will last 90-minutes but is split into two 45-minute halves.
There is often some time added on at the end of each half to allow for any breaks in play that have occurred. This added time is usually referred to as 'injury time'.
During knockout games, if the match ends after 90-minutes in a draw, 30-minutes of 'extra time' will then be played.
Extra time is divided into two halves of 15-minutes.
Should the game fail to see a winner after 90-minutes and extra time then a penalty shootout will take place.
The team who scores the most penalties after five spot-kicks each wins, however, if both sides are equal after five spot-kicks, then sudden death will follow – the first team to lead by two clear goals wins.
Best Soccer Players of All Time
There is a lot of debate about who is the best soccer player in the world and honestly, there is no right or wrong answer.
However, when it comes to fans and pundits debating which player can claim to be the best soccer player, there are generally only a few names that are worthy of discussion.
Cristiano Ronaldo – Manchester United
Cristiano Ronaldo, 36, is a Portuguese attacker, who is one of soccer's most decorated players ever.
The former Sporting Lisbon, Real Madrid, and Juventus star is currently enjoying his second spell playing for Premier League giants Manchester United – the team where he made his name all the way back in 2003.
Since making his professional debut two decades ago, Ronaldo has gone on to feature in over 900 competitive matches, directly contributing to 920 goals, along the way.
Ronaldo has also won France's prestigious 'Ballon d'Or' trophy – the highest individual accolade in men's professional soccer, a staggering five times.
Lionel Messi – Paris-Saint Germain
Lionel Messi, 34, is an Argentine wide-attacker, who is undoubtedly one of, if not, the best soccer player to ever take to the field.
The South American playmaker's technical ability often sees him referred to as a 'Magician'.
Despite spending five years (1995 – 2000) at Argentina-based club Newell's Old Boys, it was Spanish side Barcelona where Messi rose to the very top of world soccer.
Although Messi looked set to retire at the Nou Camp following a mind-blowing 21-years of service, 2021 saw the 34-year-old rock the soccer world after agreeing to join French side Paris-Saint Germain.
Throughout his professional career, Messi has featured in nearly 800 competitive matches, scoring nearly 700 goals and making over 300 assists.
After winning his seventh in 2021, two more than rival Ronaldo, Messi holds the record for most 'Ballon d'Or' awards ever.
Mohamed Salah – Liverpool
Mohamed Salah, 29, is an Egyptian wide-attacker who has emerged in recent seasons as one of the world's most prolific players.
Currently playing for Premier League side Liverpool, Salah has previously enjoyed spells with the likes of Italian side Roma and fellow English side Chelsea.
However, it has been with Liverpool that the 29-year-old has enjoyed the best spell of his career.
After signing for the club in 2017, Salah has gone on to feature in over 220 matches, in all competitions, directly contributing to over 200 goals, along the way.
Although when it comes to debating the best soccer player of all time, Salah is not considered to be in the same kind of bracket as Ronaldo and Messi, based on current form, over the last two or three seasons, there is no denying that the African is worthy of a mention.
How to Bet on Soccer
Bettors can bet on soccer in many different ways.
Although bookmakers will list Moneyline odds for soccer games, popular bets also include a wide variety of prop bets, including players to receive a yellow or red card, as well as the number of corners in a match.
Other popular types of soccer bets are parlay bets where bettors hope to successfully predict several winning teams – often yielding a very high return.