PFL 8 Preview: Renan Ferreira vs. Maurice Greene Prediction, Odds, and Picks (Aug 18)
MMA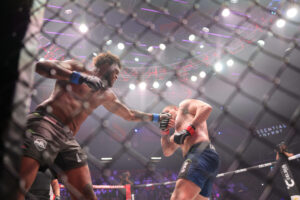 Renan Ferreira vs. Maurice Greene headlines the next PFL event.
Ferreira coming off a first-round KO win over Matheus Scheffel.
Greene last fought last year's heavyweight champ Ante Delija.
Renan Ferreira vs. Maurice Greene will serve as the main event of 2023 PFL 8, an event taking place on Friday, August 18, 2023, at Madison Square Garden in New York. The winner of the fight will advance to the 2023 PFL Heavyweight Final, where they'll fight for the $1,000,000 prize. So, who will it be – Ferreira or Greene?
---
How to Watch
When: Friday, August 18, at 10: p.m ET
Where: Madison Square Garden, New York City, New York
How to Watch: ESPN/ESPN+
---
Odds
Renan Ferreira vs. Maurice Greene wasn't originally meant to happen. Instead, Renan Ferreira (9-3) – who finished second in the PFL Heavyweight Standings with 9 points – was supposed to fight the No. 3 fighter, Marcelo Nunes. However, after Nunes got injured, the No. 5 fighter, Maurice Greene (11-8), took his place.
Greene collected "only" 5 points in the group phase of the 2023 PFL Championship. The word "only" might not be suitable because 5 points is actually a lot considering that he fought two really tough opponents this season.
First, he fought Marcelo Nunes and won by TKO in round 2. Then, in the second round, he fought last year's champion, Ante Delija. Greene lost, but only after three rounds of brutal fighting. Because Delija failed to finish Greene, the Croatian collected just 3 points, which wasn't enough to qualify for the knockouts.
READ ALSO: UFC 292 Preview: Aljamain Sterling vs. Sean O'Malley Prediction, Odds, and Picks (Aug 19)
When it comes to Ferreira, he finished second because he beat Matheus Scheffel by KO in the first round in his second fight of the PFL season. In his first bout, however, Ferreira lost to Razvan Kuniev. The result was later overturned after Kuniev tested positive for four different steroids.
---
Renan Ferreira vs. Maurice Greene Prediction
Maurice Greene might not have as impressive a record as Ferreira but it's because he used to fight in the UFC in the past. That's the promotion in which he fought such elite heavyweights as Sergei Pavlovich, Aleksei Oleinik, and Marcos Rogério de Lima.
Since moving to the PFL, he's 1-2, with both of his losses happening by decision. His only win thus far happened against Nunes last April. We're not sure if he's going to do something similar on Friday, but we do think he's going to beat Ferreira even though his PFL 8 odds of +550 suggest otherwise.
Free Pick: