PFL Europe 3 Preview: Cedric Doumbe vs. Jordan Zebo Prediction, Odds, and Picks (Sep 30)
MMA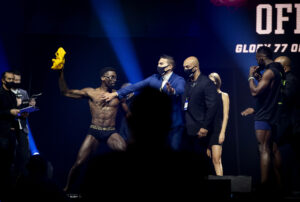 Cedric Doumbe is a kickboxing legend who's got a 100% knockout-to-win ratio since starting his MMA career.
Jordan Zebo is a well-rounded fighter who'll almost certainly try to take Saturday's fight to the ground.
PFL Europe 3 is headlined by Cedric Doumbe vs. Jordan Zebo, two French welterweights who will fight in front of their crowd at Zenith Paris on September 30, 2023. PFL Europe 3 odds suggest kickboxing maestro Doumbe is more likely to win, but we don't think anyone should underestimate his opponent who's still undefeated in his pro MMA career.
---
How to Watch
When: Saturday, September 30, 2023, at 4:00 p.m ET
Where: Zenith Paris, Paris, France
How to Watch: DAZN
---
Odds
---
Fight Preview
Cedric Doumbe is 4-0 in MMA, with each of his wins happening by knockout/technical knockout. This shouldn't surprise you much as he's an accomplished kickboxer who competed in this sport for eight years before deciding to move to the mixed martial arts universe.
As a kickboxer, Doumbe had a 75-7-1 record and was the welterweight champ in the Glory promotion on two occasions. What's interesting is that all of his kickboxing losses happened by decision. Can Jordan Zebo change that?
He's eight years Doumbe's junior who's 4-0 in professional MMA. Before going pro, he competed in amateur MMA, winning three and losing as many fights. Unlike Doumbe who's all about striking, Zebo has plenty of weapons in his arsenal. He's a decent wrestler, who also has good grappling skills, the evidence being that on his professional debut, he defeated his opponent with a guillotine choke.
READ ALSO: Ryder Cup Prediction, Preview, and Odds (2023)
Zebo is big and strong, which is why it hasn't been hard for him to make takedowns. That's probably what he'll try against Doumbe on Saturday. If he can take the fight to the ground, he'll have the advantage. So, can Zebo's plan come to fruition?
---
Cedric Doumbe vs. Jordan Zebo Prediction
Cedric Doumbe has never fought such a good wrestler before, so the big question is will he be able to defend against Zebo's takedowns? We think he will. It's just that he's so good at striking that he should be able to keep his opponent at a distance. If Zebo tries to get close to him, he'll get smacked in the face, so we could see Double record his fifth straight knockout win.
Free Pick: