UFC 294 Preview: Ikram Aliskerov vs. Warlley Alves Prediction, Odds, and Picks (Oct 21)
MMA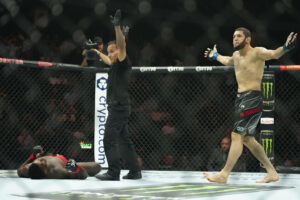 Ikram Aliskerov is a sambo expert whose only MMA loss happened in 2019 against Khamzat Chimaev.
Warlley Alves agreed to fight at UFC 294 just a couple of weeks ago after Aliskerov's original opponent quit.
Ikram Aliskerov is the fighter with by far the shortest UFC 294 odds. He's priced at -625 to beat Warlley Alves on Saturday, October 21, which may come as a sort of surprise given that this is going to be only the second time Aliskerov is fighting under the banner of the UFC. Meanwhile, Alves is a real UFC veteran, who's been fighting in this promotion since 2014.
---
How to Watch
When: Saturday, October 21, 2023, at 2:00 p.m ET
Where: Etihad Arena, Yas Island, United Arab Emirates
How to Watch: PPV
---
Odds
---
Fight Preview
Ikram Aliskerov's odds are -625, suggesting that it would be a huge upset if he didn't win in the United Arab Emirates this coming Saturday. So, why is he such a strong favorite in the eyes of bookies?
The No. 1 reason is that Aliskerov is 14-1 overall, with a win in Dana White's Contender Series (vs. Mario Sousa by submission), as well as one win in the UFC (vs. Phil Hawes by KO).
Before going to America, the Dagestani middleweight fought in Khabib's Eagle FC, as well as in Bahrain-based Brave CF. During his Brave CF days is when his first, and so far, only loss happened. It was 2019 when Khamzat Chimaev beat him by a KO. Since that defeat, however, Aliskerov is 5-0.
In addition to MMA, Aliskerov used to compete in combat sambo. In fact, he won the world gold on four occasions from 2012 to 2016.
Knowing all this, it's clear that Aliskerov is a well-rounded fighter with plenty of weapons in his arsenal. What he lacks is experience with fighting at a top level, which is something his next opponent has in abundance.
Warlley Alves is only 32, but he's been fighting professionally for more than 12 years. He joined the UFC in 2014 after impressing in The Ultimate Fighter. From there, he went on to seven UFC fights, while losing six.
READ ALSO: UFC 294 Preview: Kamaru Usman vs. Khamzat Chimaev Prediction, Odds, and Picks (Oct 21)
In the early days of his UFC career, he defeated Colby Covington, Nordine Taleb, and a few other big-name fighters. However, he's been without much success in the last couple of years. Actually, after getting KO-ed in the first round by Jeremiah Wells in the summer of 2021, he went on a two-year hiatus.
Alves returned last January only to lose to Nicolas Dalby by a split decision. Fast-forward to October 2023, and he's agreed to fight Aliskerov on a two-week notice. Knowing all this, it's no surprise he's a +425 underdog.
---
Ikram Aliskerov vs. Warlley Alves Prediction
We're almost 100% sure Ikram Aliskerov is going to win this fight. Not only that, but we're confident he's going to maul Alves on Saturday. There's just no way this fight is going to last for more than a round and a half, which is -165 at BetUS.
Free Pick: