UFC Paris Preview: Zarah Fairn vs. Jacqueline Cavalcanti Prediction, Odds, and Picks (Sep 2)
MMA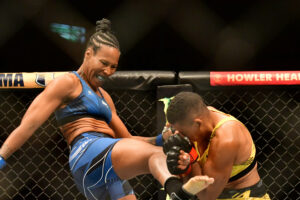 Zarah Fairn vs. Jacqueline Cavalcanti is supposed to be the first fight of the day at UFC Paris.
Fairn is 0-3 in the UFC, while Cavalcanti is making her UFC debut on Saturday, September 2.
Zarah Fairn dos Santos vs. Jacqueline Cavalcanti is the fight that will kick off the UFC Paris action on Saturday, September 2, 2023. The event opener is a fight between a French fighter desperate for a win (Fairn) and a rising Portuguese star who's making her UFC debut (Cavalcanti).
---
How to Watch
When: Saturday, September 2, 2023, at 3:00 p.m ET
Where: Accor Arena, Paris, France
How to Watch: ESPN+
---
Odds
---
Fight Preview
Zarah Fairn vs. Jacqueline Cavalcanti is one of the most interesting preliminaries of UFC Paris as it pits two fights with impressive striking skills. Both tend to land a lot of strikes and aren't afraid of getting hit. Neither of them is too great on the floor, but each of them is pretty decent when it comes to takedown defense.
Knowing all this, it's clear that the Fairn vs. Cavalcanti preliminary fight is going to be a kickboxing battle. But which fighter will win it?
Judging by the UFC Paris odds, bookies seem to favor Cavalcanti. The 26-year-old Portuguese fighter is 5-1 in her professional career with three wins by KO/TKO. Before inking a deal with the UFC, she fought one fight in the LFA, where she became the Women's Bantamweight champ.
In the past, she also fought in the SCC, UAE Warriors, and even in the PFL Challenger Series, which is where her only loss happened. It was a split decision loss, by the way, which is another evidence of how good she actually is in the cage.
READ ALSO: UFC Paris Preview: Ciryl Gane vs. Sergey Spivak Prediction, Odds, and Picks (Sep 2)
Cavalcanti is making her UFC debut against a fighter who's 0-3 since joining this promotion. It seems bad, but Zarah Fairn has fought some really great opponents so far – Megan Anderson, Felicia Spencer, and Josiane Nunes.
Before signing a deal with the UFC, she was 6-2 in promotions like Cage, British Challenge, and so on.
---
Zarah Fairn vs. Jacqueline Cavalcanti Prediction
Jacqueline Cavalcanti is a more tactical striker than Zarah Fairn, but the French fighter is way more powerful. Plus, she's incredibly brave and doesn't care about getting hurt. That said, you can be 100% sure she's gonna go all-in on Saturday in Paris. It's just her style.
But that's not the only reason why we expect Fairn to throw everything she's got at Cavalcanti. She needs to do so to ensure she stays in the UFC. Plus, she'll have the Parisian crowd to cheer her on.
Free Pick: