NASCAR 2023 Picks: 4EVER 400 Prediction, Preview, and Odds (Oct 22)
Nascar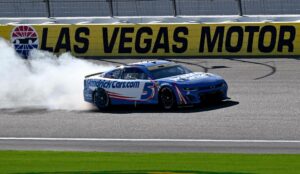 End of the NASCAR Cup Series in sight as the second race in the round of eight takes place on Sunday
The 4EVER 400 is staged at Homestead-Miami Speedway
The NASCAR intensity continues to ramp up this weekend, as the penultimate race of the round of eight is staged in Florida. The battle for important places in the final four to determine the drivers that will be chasing glory in the NASCAR Cup Series Championship race continues when the 4EVER 400 is staged this weekend.
---
Schedule and How To Watch
When: Sunday, October 22, 2023 at 2:30 p.m. ET
Where: Homestead-Miami Speedway, Florida
How To Watch: NBC
---
4EVER 400 Odds
---
Event Preview
The end of the NASCAR Cup Series is creeping into sight, as the penultimate race in the round of eight takes place in Florida this weekend. It will be a thrilling race, and it could be pivotal in the race for drivers to secure their spot in the final four that will compete for the Drivers' Championship on the first Sunday in November.
The 4EVER 400 has been staged since 1999, and it has been known under a variety of previous names, including the Dixie Vodka 400, Ford EcoBoost 400, and the Pennzoil 400. This race covers a total distance of 400.5 miles, with a total of 267 laps being completed. The first two stages consist of 80 laps apiece, with the final stage covering the remaining 107.
READ MORE: F1 Picks: United States Grand Prix Prediction, Preview, and Odds (Oct 22)
Kyle Larson appears to be the obvious place to start this weekend, as the former NASCAR champion landed a dominant success in this race 12 months ago. Larson's championship push was ignited last weekend, as he landed victory in the South Point 400 to move to the top of the Drivers' Championship.
However, his advantage is a slender one, as he sits just seven points clear of William Byron. The challenger has already landed victory in the playoffs, with his most recent success coming in the Autotrader EchoPark Automotive 400. It promises to be a fascinating race this weekend, as all but Chris Buescher of the top eight finished in the top ten places at the South Point 400 last weekend.
---
4EVER 400 Prediction
It will be a pulsating race this weekend, but we will be siding with Kyle Larson to continue his push for a second Drivers' Championship. He has been ultra-consistent throughout the playoffs, and a second straight win in the 4EVER 400 could be a solid chance.
Free Pick: