NBA: Heat vs Knicks Odds, and Picks (May 2)
NBA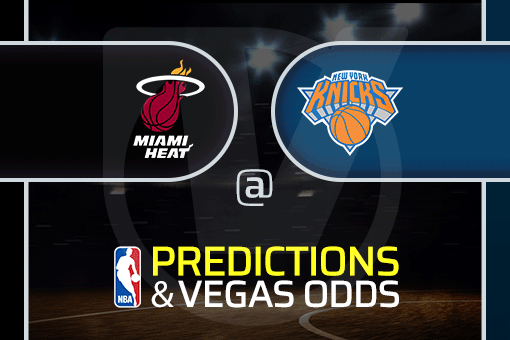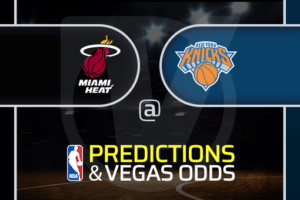 The Heat picked up a massive road win in Game 1.
New York's 108-101 defeat puts them in a tough spot.
Miami is now 2-2 on the season as a whole against the Knicks.
The Heat (50-40) and the Knicks (51-37) face off in Game 2 of their Eastern Conference semifinal series. Miami claimed a key victory in Game 1 with Julius Randle sidelined, and will aim to go up 2-0 on the road.
Jump to:
---
How to Watch
Where: Madison Square Garden, New York, NY
When: Tuesday, May 2, 2023, at 7:30 p.m ET
How to Watch: TNT
---
Odds
---
Picks
Miami came from behind against the Knicks at the Garden on Sunday, completing a stellar 2nd half, and taking a 1-0 lead in the series. Despite a slow start, the Heat were able to grind out a win in a hostile environment, scoring more points than the Knicks allowed in any of their 5 games against the Cavs in Round 1. Jimmy Butler was banged up in the win, and his health will make a massive difference for Miami.
Speaking of the health of key players, the Knicks were unable to come away with a win in a game where top-scorer Julius Randle was sidelined. The news got worse for New York after the loss, as Jalen Brunson is also now questionable with an ankle injury, and Quentin Grimes remains limited with a shoulder injury. The Knicks boast one of the NBA's deepest teams, but it won't be easy to win here without 3 key starters.
---
Picks
It's tough to predict the outcome of a game like this, where both teams have key players that are questionable. Not only does it matter whether or not they play, but it also will make a difference if they are attempting to play through pain or discomfort. New York's depth should give them an advantage, but it wasn't enough in their game 1 loss. I see the Heat continuing to win until Randle and Brunson return.
Moneyline:
Spread: