NCAAF: Will Georgia Make the 2023-24 Playoffs?
NCAAF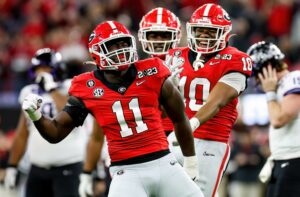 Georgia dominated TCU, 65-7, winning their 2nd consecutive national title.
They'll once again lose several key players, while bringing in new talent as well.
Oddsmakers rank the Bulldogs as the favorite to win it all and 3-peat this season.
As the 2023-24 college football season quickly approaches, let's take a look at Georgia's outlook and chances to make the College Football Playoff this year. They are expected to rank at the top once more.
---
CFP Odds
Team News
Georgia surprised many people with their dominant season last year. After losing eight defensive starters to the 2022 NFL Draft, the Bulldogs returned the following season with a vengeance, looking even better than the previous year. Their defense hardly regressed, and the offense took a big step forward. Georgia went on to complete a perfectly undefeated 15-0 season after blowing out TCU in the national title game.
The Bulldogs lost several more key players to the draft this year, including more defensive starters, as well as QB Stetson Bennett IV. Even though Bennett isn't considered to be an elite talent, he was still a tremendous college quarterback. Replacing him could prove to be just as difficult as replacing an entire defense. Fortunately, they also return some explosive playmakers on offense, such as TE Brock Bowers.
---
Prediction
Despite losing the QB who won two titles for them, and a bounty of other players, Georgia is still set up well this season. They got two top WRs from the transfer portal, Rara Thomas and Dominic Lovett, and still have a roster comprised mostly of players that just won it all. They should make the CFP again in 2023-24.