NCAAF: Will Clemson Make the 2023-24 Playoffs?
NCAAF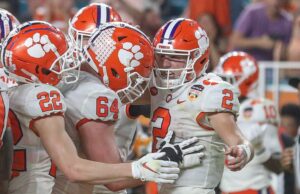 Clemson was hammered by Tennessee in the 2022 Orange Bowl, losing 31-14.
They've fallen from their usual form, after winning two titles from 2017-2019.
QB Cade Klubnik will look to take a big step forward in his sophomore season.
As the 2023-24 college football season approaches, let's take a look at Clemson's playoff odds and weigh their chances to make the College Football Playoff this year. They are aiming to return to their past form.
---
CFP Odds
---
Team News
Clemson returned to a NY6 bowl last season, participating in the Orange Bowl, after only making the Cheez-It Bowl in the previous season. While they've made NY6 bowls in 7 of the last 8 years, the Tigers have also now gone 3 straight seasons without making the CFP. They've finished with 10 or more wins each year since 2011, but the post-Trevor Lawrence era hasn't had the same level of success in bowls.
This season, the Tigers are considered by many to have been usurped by Florida State for the top spot in the ACC. They'll have a chance to prove those people wrong early in the season. They open ACC play at home against the Seminoles. The success of QB Cade Klubnik in that game and over the course of his 2nd season as a whole will make or break Clemson's season. Their defense should make a huge impact as well.
---
Prediction
If Clemson wins their big early test against Florida State, they will have a much better chance of running the tables. Only Notre Dame is left on the schedule to worry about after that. However, a weaker ACC schedule also puts Clemson at risk. If they fail to go undefeated, their path to the CFP will be difficult. The Tigers should be a lock to make it next year and beyond in the 12-team field, but it's a toss-up for 2023.