NCAAF: Will Notre Dame Make the 2023-24 Playoffs?
NCAAF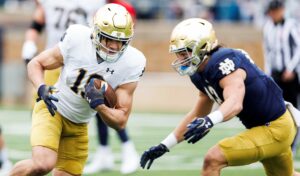 Notre Dame took down South Carolina, 45-38, in the Gator Bowl.
They'll be aiming to return to at least an NY6 Bowl this season.
QB transfer Sam Hartman will give the Fighting Irish solid QB play.
As the 2023-24 college football season approaches, let's take a look at Notre Dame's playoff odds and weigh their chances to make the College Football Playoff this year. They should be near the top again.
---
CFP Odds
---
Team News
Notre Dame has struggled to crack the top tier of teams over the past few seasons. They're always in contention for the playoff, but keep falling short. Last year was an even bigger step back, as the Fighting Irish spent much of the year ranked in the 20s or lower. This season, they'll have opportunities to prove themselves against Ohio State, USC, and Clemson, more than enough to build a CFP resume if they win.
The Fighting Irish's lackluster offense has been a big reason behind their struggles lately. They haven't had solid QB play in a long time, which makes competing with the very best teams difficult. Fortunately, they have some new assets on offense to help turn things around. QB Sam Hartman transfers to Notre Dame after a very successful career at Wake Forest, and a new offensive coordinator will take the helm as well.
---
Prediction
Notre Dame's upgrade to Sam Hartman should have them confidently finishing in a better ranking than last season. That being said, the rest of the roster isn't quite deep enough to support Hartman as far as the CFP, especially with TE Michael Mayer headed to the NFL. I'd expect some growing pains for the Fighting Irish's new assets at first, but they may heat up down the stretch. I don't see them making the CFP though.