NCAAF: Will Texas Make the 2023-24 Playoffs?
NCAAF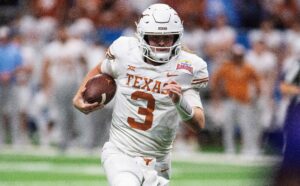 Texas came up short in the 2022 Alamo Bowl, losing by 7 to Washington.
They'll once again enter this upcoming season with high expectations.
The Longhorns will need to overcome the loss of star RB Bijan Robinson.
As the 2023-24 college football season approaches, let's take a look at Texas' playoff odds and weigh their chances to make the College Football Playoff this year. They are expected to rank near the top again.
---
CFP Odds
---
Team News
Texas enters each season with high expectations, but hasn't been able to turn them into much success. After going 101-16 (.863) from 2001-2009, the Longhorns haven't been able to return to the top of the pack. Since 2010, they've gone just 91-72 (.558). In that same span, Texas made an NY6 Bowl just one time, in 2018. They'll once again be aiming to turn things around in 2023, before joining the SEC in 2024.
The Longhorns will return an offensive unit that helped them win 8 games last season. QB Quinn Ewers will have similar protection and his full complement of receivers, but will be without star RB Bijan Robinson. Meanwhile, defense has been an issue for Texas. If they can improve in 2023, the whole team will benefit significantly. The Big-12 conference is wide open this year, so the Longhorns could certainly finish on top.
---
Prediction
Texas is consistently one of the most over-rated teams in college football. It's been 14 years since they made the finals, but each year they get ranked very high in the first AP Poll, before inevitably dropping out. I'm hopeful that they are starting to get back on the right track under head coach Steve Sarkisian, but I definitely wouldn't take them to make the CFP. Maybe they can win the Big-12 on their way out though.