Cincinnati Bengals 2023-24 NFL Playoff Odds and Prediction
NFL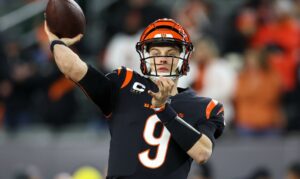 The Bengals fell to the Chiefs in the AFC Championship Game.
They've made the conference final or better in two straight seasons.
QB Joe Burrow will be due for a massive contract extension soon.
As the 2023-24 NFL season approaches, let's take a look at the Cincinnati Bengals' playoff odds and weigh their chances of making the postseason this year. They'll be aiming to return to the Super Bowl.
---
Playoff Odds
---
Team News
The Bengals won their 2nd straight division title last season, but came up short in the AFC Championship game. After losing in the Super Bowl the year prior, Cincinnati has been knocking on the door of a title for a few years now. Their 23-20 loss to Kansas City in the playoffs was competitive, but still created some areas to work on. While the defense played well, the offense slowed down a lot as the game progressed.
Cincinnati's offense still ranks among the best, with QB Joe Burrow behind center and WR JaMarr Chase leading the way. WR Tee Higgins has also had two straight 1,000-yard receiving seasons. RB Joe Mixon saw some regression last season, going from 1,205 yards and 13 TDs in 2021 to just 814 yards and 7 TDs. Mixon has averaged under 4 ypc over the last four seasons. The Bengals may be seeking a new RB soon.
---
Prediction
It's hard to imagine the Bengals missing the playoffs after they made deep runs in the last two seasons. Burrow and Chase have completely transformed this franchise, making them legitimate Super Bowl contenders once again. Cincinnati's defense has also improved a lot over the past two years, increasing their odds of winning it all. Regardless of how far they make it, they should certainly make the playoffs.