Denver Broncos 2023-24 NFL Playoff Odds and Prediction
NFL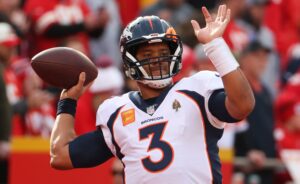 The Broncos had a catastrophic season last year, going just 5-12.
Russell Wilson saw some major regression, finishing 27th in QBR.
Denver needs Wilson to return to form to have a shot at the playoffs.
As the 2023-24 NFL season approaches, let's take a look at the Denver Broncos' playoff odds and weigh their chances of making the postseason this year. They'll attempt to move past their brutal 2022 season.
---
Playoff Odds
---
Team News
The Broncos had one of the most unfortunate seasons in the NFL. They spent the offseason in 2022 making moves with the intention to be extremely competitive. Instead, they were one of the NFL's worst teams, finishing just 5-12. After trading TE Noah Fant, two 1st-round picks, two 2nd-round picks, and much more for QB Russell Wilson, Denver watched as Wilson finished in the bottom-5 among starting QBs.
Not only did the Broncos trade a ton of draft capital for Wilson, they also extended him through 2028, giving him a $245 million deal in the process. Wilson wasn't the only reason Denver had a bad season, but the amount they gave up for him to play at a mediocre level was eye opening. With Nathaniel Hackett no longer in charge, the Broncos are hoping to put 2022 behind them and get back on track this season.
---
Prediction
It's hard to imagine the Broncos making the playoffs after how they played last season. That being said, before the catastrophe that was 2022 happened, this exact same roster had playoff aspirations. If new head coach Sean Payton proves to be night and day better than Hackett, it's not completely far-fetched to think both Denver and Wilson could be in the mix. Ultimately, I don't see the Broncos surpassing 7 wins.