Houston Texans 2023-24 NFL Playoff Odds and Prediction
NFL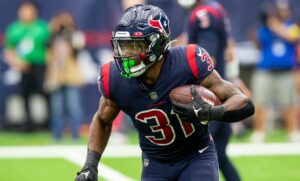 The Texans finished 3-13-1 last year, ranking among the NFL's worst teams.
They selected QB C.J. Stroud and DL Will Anderson with the #2 and #3 picks.
Houston is still rebuilding, but has begun to put together a promising young squad.
As the 2023-24 NFL season approaches, let's take a look at the Houston Texans' playoff odds and weigh their chances of making the postseason this year. They've got a long way to go to get back in contention.
---
Playoff Odds
---
Team News
The Texans committed fully to the rebuild last season, but still failed to earn the #1-overall pick in the 2023 NFL Draft. Even so, they emerged with their franchise QB of the future, C.J. Stroud, before quickly trading right back up to select dynamic defensive lineman Will Anderson Jr. With two superstars added on either side of the ball, Houston is finally moving in the right direction, albeit with quite a bit of work left to do.
After finishing 3-13-1 last season, the Texans should take a step forward in 2023-24. 2nd-year players Dameon Pierce and John Metchie III will play a key role in aiding the offense this season. While it's unlikely that Houston returns to the postseason this year, the success of those players will determine how soon they get back on the right track. The defense is in need of repairs as well, especially the secondary.
---
Prediction
The odds reflect just how unlikely it is for the Texans the make to playoffs this season, expected to be one of the worst teams again in 2023-24. Houston traded their 2024 first-round pick in the move up for Will Anderson Jr., removing any potential benefits to a poor finish. I would hold off on betting on Houston altogether, with the odds being pretty unfavorable to bettors. I see them winning 6 games this season.