Los Angeles Rams 2023-24 NFL Playoff Odds and Prediction
NFL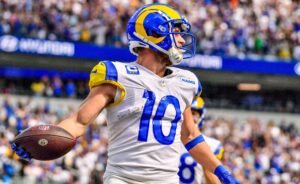 The Rams had a major regression season last year, finishing just 6-11.
Their Super Bowl hangover, combined with injuries, made things rough.
Los Angeles is hoping to bounce back this year with Cooper Kupp back.
As the 2023-24 NFL season approaches, let's take a look at the Los Angeles Rams' playoff odds and weigh their chances of making the postseason this year. They'll aim to rebound in 2023 after a subpar season.
---
Playoff Odds
---
Team News
The Rams' Super Bowl hangover lasted a full season. They finished 6-11 in 2022, after winning it all in 2021. It wasn't just the normal regression that affected their season, though. Los Angeles lost superstar WR Cooper Kupp to an ankle injury midway through the season. The lack of Kupp's presence after a 145-reception, 1,947-yard, and 16-TD season was too much for an already depleted Rams roster to overcome.
Without Kupp to throw to, QB Matthew Stafford also saw some enormous regression. He went from throwing 4,886 yards and 41 TDs with a 103 passer rating in 2021 to throwing just 2,087 yards and 10 TDs with an 87.5 passer rating in 2022. A regression that steep is a concern, even with losses among the WRs and offensive line providing a good deal of reason for it. 2023 could be Stafford's last year with the Rams.
---
Prediction
The Rams are a bit of a mystery coming into this year. They've had a lot of roster turnover since their Super Bowl title, making it difficult to repeat that success. Having traded several picks to acquire Matthew Stafford and the other assets used to win the Super Bowl, their rebuild has been slowed. Los Angeles probably needs a couple years to get back on track, but they do have the talent to surprise people as well.