NFL Predictions: DeAndre Hopkins Next Team
NFL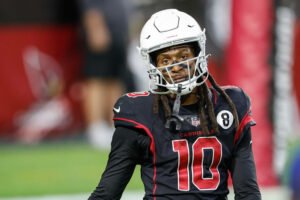 The Cardinals released Hopkins on Friday.
The star wide receiver has over 11,000 yards in his 10-year career.
When DeAndre Hopkins made it clear he was looking to move on from the Arizona Cardinals earlier this year many thought it would be followed by a swift trade, with many suitors to his enormous talent. Things didn't shape up that way though and after months of inactivity, the Cardinals finally released Hopkins from his contract on Friday. Here we take a look at some of the favorites, and some outsiders, to be DeAndre Hopkins' next team.
The Favorites
The Buffalo Bills are the favorites for DeAndre Hopkins' signature with many believing that the star wideout could be the missing piece to delivering them a Superbowl victory. The Bills already have an aging star wide receiver in Stefon Diggs, and if Hopkins is prepared to be the secondary target for quarterback Josh Allen then this could be a match made in heaven for short-term success.
The Chiefs are the defending Superbowl champions and, whilst they have a talented roster, they don't have a superstar wide receiver among their ranks at present. Hopkins could slide into the role with ease and there is no doubt that Patrick Mahomes would benefit from the addition of an elite target man.
Dallas feels like a great fit for Hopkins, whilst they already have an elite receiver on their roster in CeeDee Lamb there is no doubt that the talent and experience of Hopkins could complement his skillset and bring a great balance to the Cowboys' offense. Having recently signed Brandin Cooks to play alongside Lamb, it remains to be seen whether they are in the market for another wideout.
The Outsiders
The Giants have a large number of wide receivers on their books at present, but most of the unit is more adept at playing in the slot and there is no definitive WR1 among the group. Could the Giants see Hopkins as that guy and tempt him to New York?
Hopkins exploded into the wide receiver we see today whilst playing with Deshaun Watson at Houston, could they reunite in Cleveland and turn the Browns into a potent offense? It seems unlikely but there is a long history of receivers making unexpected moves in order to play with a quarterback they know and trust.
Prediction
It is never easy to predict the landing spots of veteran free agents, as a lot can depend on their personal motivations when signing on the dotted line. We think Hopkins will want to move to a team that can deliver success in the twilight of his career so the obvious choice seems to be between Buffalo and Kansas City. The Chiefs feel like the side with more positional need, so we see them as having the edge here.
Pick