NHL Picks: James Norris Memorial Trophy Odds, and Prediction (2023-24)
NHL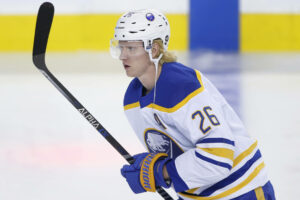 James Norris Memorial Trophy awarded to the top defense player in the NHL
Erik Karlsson was the most recent winner of the accolade
The NHL season is littered with standout performers, but only few are recognized for their excellent campaigns by winning one of the standout awards at the end of the season. The James Norris Memorial Trophy is awarded to the best defensive player in the competition, and you can see the odds for 2023-24 below.
---
James Norris Memorial Trophy Odds
---
Event Preview
The James Norris Memorial Trophy has been handed out to the top defensive player in the NHL since its introduction in 1953. Throughout the history of the award, it has been handed out to 26 players, with the Professional Hockey Writers' Association determining the player that was the standout defenseman at the conclusion of the regular season.
Bobby Orr is the most successful player in the history of the award, as he picked up the accolade on eight straight occasions during his legendary career with the Boston Bruins. Other standout players to have won the award include Doug Harvey and Nicklas Lindstrom, who both won the award on seven occasions.
READ MORE: F1 Picks: Austrian Grand Prix Prediction, Preview, and Odds (July 2)
There will be a number of previous winners of the award in the running for the forthcoming season, with Erik Karlsson landing the accolade at the end of the 2022-23 season following an excellent campaign with the San Jose Sharks.
Other previous winners that will be among the standout contenders next season, including 2021 winner Adam Fox, 2022 winner Cale Makar, and Roman Josi, who landed success in 2020. However, no player has won back-to-back accolades since Lindstrom in 2008, meaning that there could be extra emphasis on players that haven't previously landed the award during their career.
---
James Norris Memorial Trophy Picks
Our pick to win the award at the end of the coming season is Rasmus Dahlin. The Swedish player was excellent throughout the campaign with the Buffalo Sabres, and he is progressing into the player that many expected after being selected first overall in the 2018 Draft.
Free Pick