Leagues Cup Preview: CF Montreal vs. UNAM Pumas Prediction, Odds, and Picks (Jul 22)
Soccer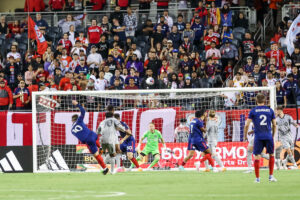 CF Montreal meets UNAM Pumas for the first time ever in this Saturday's Leagues Cup game.
CF Montreal is one of the best home sides in the Eastern Conference of the 2023 MLS.
UNAM Pumas has been doing great since the start of the 2023 Liga MX Apertura.
The Leagues Cup – a tournament featuring all of the MLS and Liga MX teams – starts this weekend with 15 games in round 1. Still, everyone seems to be talking just about the game that will see Lionel Messi make a debut for his new club. You can learn more about that in our Inter Miami vs. Club Leon preview, but if you're interested in learning about other games, you need to stay put.
In this Leagues Cup prediction piece, we're going to analyze the duel between CF Montreal and UNAM Pumas. The game is played at Saputo Stadium in Montreal, where the Canadian team has been brilliant this season in the MLS. But can "L'Impact" continue their brilliance in the Leagues Cup against one of the best away sides of the Mexican Liga MX? Let's find out!
---
How To Watch
When: Saturday, July 22, 2023, at 7:30 p.m ET
Where: Saputo Stadium, Montreal, Quebec, Canada
How to Watch: Apple TV
---
Odds
---
Game Preview
The good news for CF Montreal is that the game is played in Canada. At Saputo Stadium, these guys 76.92%-win ratio in 2023 in all competitions. "L'Impact" have been particularly good at the back, conceding just five goals in the 11 home games they've played so far in the 2023 MLS.
The bad news for CF Montreal is that this Friday, they're taking on a pretty decent Liga MX team. UNAM Pumas is still undefeated in the 2023-24 Liga MX Apertura with a 1-2-0 record and a score differential of 4-3.
In last season's Clausura – which finished in May – UNAM Pumas disappointed its fans by not qualifying for the playoffs. This team finished with a 2-8-7 record in the regular season, which is what probably sobered them up and made them work harder in the new season.
Another reason why they've been doing much better than before is that during the summer transfer period, they straightened their defense. Earlier this month, two very good central defenders joined this team – Nathan Silva (from Atletico Mineiro) and Gabriel Fernandez (from Elche).
---
CF Montreal vs. UNAM Pumas Prediction
Both teams are very good defensively, so we probably won't see too many goals in the July 22 game. In fact, we wouldn't be surprised if there were no goals at Saputo Stadium. That said, our top prediction for the CF Montreal vs. UNAM Pumas Leagues Cup game is that it will end in a tie after 90 minutes.
Free Pick: