Leagues Cup Preview: Cruz Azul vs. Atlanta United Prediction, Odds, and Picks (Jul 29)
Soccer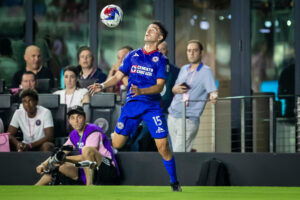 Both Cruz Azul and Atlanta United have lost to Messi's Inter Miami in the 2023 Leagues Cup.
Whoever wins the July 29 game will advance to the Leagues Cup knockout stage.
The Cruz Azul vs. Atlanta Utd game is taking place at Atlanta's Mercedes-Benz Stadium.
Cruz Azul and Atlanta United are the two teams that lost to Lionel Messi's Inter Miami in the 2023 Leagues Cup. What this means is that the Cruz Azul vs. Atlanta Utd game will practically decide which of these two will advance to the next stage of the competition.
---
How To Watch
When: Saturday, July 29, 2023, at 7:00 p.m ET
Where: Mercedes-Benz Stadium, Atlanta, Georgia
How to Watch: Apple TV
---
Odds
---
Game Preview
Each team is 0-0-1 in the Leagues Cup, but it's Atlanta United that got battered by Lionel Messi & Co. Inter Miami beat the boys from Georgia 4-0 on Tuesday evening. Meanwhile, Cruz Azul lost only 2-1 to "The Herons" with Messi scoring the winner in the fourth minute of the stoppage time.
All this would make you think Atlanta is a way worse team than Cruz Azul, but there's a caveat. Lionel Messi spent only under 40 minutes on the pitch against the Mexican side, while against the Americans, he played for 77 minutes before getting subbed off. And during that time, the soccer GOAT scored two goals, as well as made one assist.
READ ALSO: Leagues Cup Preview: Club America vs. St. Louis City Prediction, Odds, and Picks (Jul 27)
That said, Atlanta's disappointing Leagues Cup start doesn't mean this team is bad. Plus, "The Five Stripes" have one major advantage over the Mexican side – the July 29 game is played on their turf. At Mercedes-Benz Stadium in Atlanta, GA, these guys are 7-3-2 in the MLS this season.
---
Cruz Azul vs. Atlanta Utd Prediction
We think Atlanta United will win this game, but will it happen in the regular 90 minutes or after a penalty shootout? We think the latter scenario is more likely to play out. That said, our top Cruz Azul vs. Atlanta pick is that the game will end in a draw in regular time.
Free Pick: