MLS Preview: Inter Miami vs. FC Cincinnati Prediction, Odds, and Picks (Oct 7)
Soccer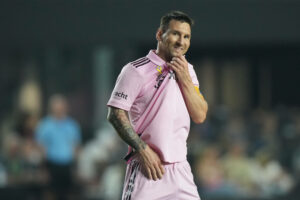 If Lionel Messi's Inter Miami doesn't beat FC Cincinnati on Saturday, its playoff dreams are over.
Inter Miami is without a single win in its last four games, in each of which Messi did not play.
FC Cincinnati is the team that's secured the MLS Supporters' Shield for the 2023 season.
Inter Miami is in trouble after losing to the Chicago Fire earlier this week. Now, the Herons need to go for a win against the winner of the 2023 MLS Supporters Shield, FC Cincinnati, on Saturday, August 7. Unfortunately for Lionel Messi and his teammates, even a victory against Cincy won't guarantee a spot in the playoff zone.
---
How to Watch
When: Saturday, October 7, 2023, at 7:30 p.m ET
Where: DRV PNK Stadium, Fort Lauderdale (Miami), Florida
How to Watch: Apple TV
---
Odds
---
Game Preview
Turns out, Inter Miami actually is a one-man army. The Herons were without Lionel Messi in their last four games and they failed to win a single one of those. In fact, they lost two of those games, including their most recent MLS game against the Chicago Fire.
The game was played at Soldier Field and the hosts won 4-1, thus moving to the playoff zone in the Eastern Conference. Speaking of playoffs, the chances are now very slim that Inter Miami will get there this year.
The Herons have 33 points right now, with three games left to be played before the end of the regular season. Most other teams have only two games left, but the problem is that the team currently sitting in the last available playoff spot (CF Montreal) has five points more than Messi's team.
READ ALSO: UFC Vegas 80 Preview: Grant Dawson vs. Bobby Green Prediction, Odds, and Picks (Oct 7)
In simple terms, this means that simply winning the last three games won't be enough for Inter Miami to make the playoffs. The Herons also need to see a couple of their rivals drop points in the remainder of the season.
---
Inter Miami vs. FC Cincinnati Prediction
With Lionel Messi on the field, Inter Miami would probably be able to beat FC Cincinnati. But will he play on Saturday evening? He'd definitely not 100% fit, but he is on a day-to-day basis. Whether he'll play or not depends on whether coach Tata Martino still believes his team can make the playoffs.
So, does he? We think he does. Sure, the Herons' destiny is no longer only in their hands, but their playoff rivals also have some tough games in hand, so anything is possible.
Free Pick: