Bet on the 2020 Overwatch League Season: Betting Odds & Predictions

The Overwatch League (OWL) is a professional esports league created by Blizzard to develop a fresh competitive format for video gaming. A total of 20 teams compete across 28 matches from February 2020 through August 9, 2020 in the goal of winning the league title and claim a hefty chunk of the $5,000,000 prize purse.
Today we take a closer look at the available Overwatch League betting odds and opportunities across sportsbooks out there. Since the OWL is a rather new phenomenon, most sportsbooks prefer to play close to the chest and offer a few available bets at a time.
We will now have a detailed look at this year's event and help you find out all you need to know about making a bet on OW. Most importantly, we recommend to experience the game yourself for starters. Let's start with the latest Overwatch odds.
Odds for Outright Winners in the 2020 Overwatch League Season
The currently available odds are subject to change from week to week because of the volatile nature of the league. As the event progresses, favorites will begin to shape up and that will be reflected in their odds.
Here are the latest 2020 Overwatch betting odds:
| Team | Odds to Win 2020 OWL Season |
| --- | --- |
| Boston Uprising | Not currently available |
| London Spitfire | – |
| New York Excelsior | – |
| Paris Eternal | – |
| Toronto Defiant | – |
| Atlanta Reign | – |
| Florida Mayhem | – |
| Houston Outlaws | – |
| Philadelphia Fusion | – |
| Washington Justice | – |
| Chengdu Hunters | – |
| Guangzhou Charge | – |
| Hangzhou Spark | – |
| Seoul Dynasty | – |
| Shanghai Dragons | – |
| Dallas Fuel | – |
| Los Angeles Gladiators | – |
| Los Angeles Valiant | – |
| San Francisco Shock | – |
| Vancouver Titans | – |
*Odds last checked on January 24, 2020
Where Is the 2020 Overwatch League Season Taking Place?
The regular season will be played offline from various locations with teams traveling to other teams' home stadia to play in front of live crowds. Each event will feature a four-map contest and teams will participate in a total of 28 matches in the regular season.
Presently, the smallest stadium capacity in the league is the Full Sail Live at Full Sail University, Winter Park, Orlando, home to Florida Mayhem. Conversely, the largest capacity venue is the National Exhibition Centre, Birmingham, West Midlands home to London Spitfire.
Where Can I Watch the OWL Games?
Blizzard has done a fantastic job of broadcasting all main events in multiple languages via Twitch and even signing deals with TV stations in Germany and Brazil.
Mind, this is also the first season when the OWL has fully adopted the home/away format, bringing the league closer to its original design – emulating the big sports leagues in the United States.
However, there has been some doubt as to whether the OWL can scale globally the same way it has been developing in the U.S. with investment going in home arenas and franchised slots going for reportedly between $30 million and $60 million per a single slot.
Players to Consider This Season
Each esports has its own idiosyncrasies. In Overwatch, the ability of individuals to wreak havoc and reduce enemies to piles of pixelated flesh and bones works just alright to secure an important win.
Mind-blowing plays are an everyday occurrence in the OWL, and you would do well to keep your eyes open for those players who have the ability to sway entire games. In fact, Overwatch even puts an emphasis on showering the MVPs withs accolades.
Besides, the league is entering its third year, and the pool of contenders is teeming with newly-fledged talent perfectly capable of staging comebacks in crucial moments. Here is the list of players to keep in mind when placing your bets this year and ahead of the opening week:
Dong-gyu "MANO" Kim – New York Excelsior

Teaming with talent, New York Excelsior works together as a well-oiled machine, one in which you could often overlook the support roles. But Dong-gyu Kim, better known by his moniker, "MANO," is a player to watch out for this year. Voted as one of the most gifted players on the Overwatch League block, his tanking style is a little more aggressive than a conservative defender would play. Yet, it pays off, and the overall set-up in NYXL suggests that they will be coming into this season hard, looking for the title at all costs.
Sung-hyeon "JJONAK" Bang – New York Excelsior

NYXL just know how to choose talent and there is no denying that. You may often overlook the support role in Overwatch, but you can hardly look the other way when Sung-hyeon Bang or JJONAK is in there for your team. He has been delivering mind-boggling plays, offering well-timed heals and generally being the backbone of NYXL's offensive and defensive for two good years now. He often runs for the MVP title himself and in 2020, JJONAK is one of the key elements to New York's overall chances of claiming the title.
Jun-ho "FURY" Kim – Philadelphia Fusion

Jun-ho Kim or FURY has joined Philadelphia Fusion after the team clocked a rather dispiriting season. Amid the falling performance of the team, Fusion's management decided to shake up its roster and adding FURY to the front line – as he plays tank – has been a wise decision. With the league's first official plays this season just around the corner – or probably already on for you as you read that – FURY is one of the biggest assets for his team and this will be put to a test as early as February 15 when Philadelphia faces off Washington Justice. Or conversely, it has been put to a test!
Hyojong "HAKSAL" Kim – Vancouver Titans

Often called a one-man-army, Hyojong Kim or HAKSAL is perfectly capable of executing genocides and sniffing the fire out of opponents. His heart-felt plays and super human reflexes give him a nearly overwhelming presence on the field, putting immeasurable pressure on opponents. HAKSAL may as well be what puts the Vancouver Titans on the map in the 2020 Overwatch League season.
Grant "MOTH" Espe – San Francisco Shock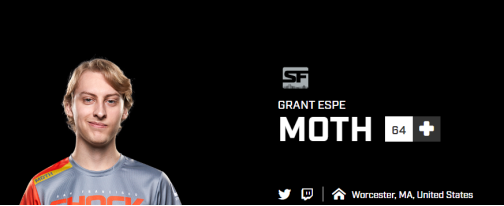 Meet Grant Espe or as you may know him MOTH. He is a San Francisco Shock support player. Who has been an indispensable healer and an aid to his team, helping Shock push to the very top in the Overwatch World Cup 2019 as well as – understandably – the Overwatch League – 2019 Playoffs. Espe has been instrumental in boosting his team's fortunes from a year before when San Francisco placed 5-8th the Overwatch World Cup 2018. Even though you won't hear commentators mention his name as often, he's definitely able to set a pace for the game, so keep your eyes peeled for him.
Joon-yeong "PROFIT" Park – Seoul Dynasty

Joon-yeong Park or "PROFIT" spend two seasons playing for London Spitfire, winning the 2018 Overwatch League MVP award and establishing himself as one of the most appreciated players across the entire OW competitive scene. Since the first season, PROFIT has been there for his team, His signature heroes include Genji, Hanzo and Tracer and he is equally lethal with all of them. Whether Seoul Dynasty makes it to the top this year is another matter, but PROFIT is definitely going to play a big role in determining the team's fortunes.
Top-Performing Teams in the Overwatch League
The Overwatch League rewards talent and with just two seasons out there, you are probably wondering how to pinpoint the best teams. We have created a simple reference table that quickly informs you which teams have won the most OW Grand Finals titles and Midseason titles:
| Team | Grand Finals | Year Won | Mid-season Titles | Year Won |
| --- | --- | --- | --- | --- |
| London Spitfire | 1 | 2018 | 1 | 2018 |
| San Francisco Shock | 1 | 2019 | 1 | 2019 |
| New York Excelsior | 0 | – | 2 | 2018 |
| Los Angeles Valiant | 0 | – | 1 | 2018 |
| Vancouver Titans | 0 | – | 1 | 2019 |
| Shanghai Dragons | 0 | – | 1 | 2019 |
Top 10 OWL Teams by Earnings
San Francisco Shock – $3,500,000
London Spitfire – $1,425,000
New York Excelsior – $1,200,000
Vancouver Titans – $950,000
Philadelphia Fusion – $575,000
Los Angeles Gladiators – $525,000
Los Angeles Valiant – $450,000
Hangzhou Spark – $425,000
Seoul Dynasty – $350,000
Atlanta Reign – $325,000
Overwatch League 2020 Begins
The Overwatch League is without a doubt one of the most ambitious esports projects. Still in its initial stages of development, and backed by heavy investment, Overwatch is the first serious attempt to test the franchised model on esports. Fans have been reacting positively, but the game definitely has a long way to go if it is to establish itself on a similar scale as traditional ports. In the meantime, make sure to tune in, watch your favorite teams play or even place the occasional wager.
Latest Esports Headlines