PFL 7 Preview: Bubba Jenkins vs. Jesus Pinedo Prediction, Odds, and Picks (Aug 4)
MMA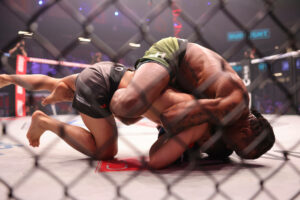 Bubba Jenkins vs. Jesus Pinedo Featherweight Semifinal headlines the 2023 PFL 7 event.
Jesus Pinedo is the man behind the biggest upset of the 2023 PFL season (so far).
Bubba Jenkins's PFL odds of -360 suggest that he's going to get the job done on Friday, August 4.
It's time for the 2023 PFL Playoffs! This stage starts with PFL 7, an event taking place at Boeing Center at Tech Port in San Antonio, Texas, on Friday, August 4. It's headlined by a featherweight semifinal fight between Bubba Jenkins and Jesus Pinedo, which is the fight we're now going to analyze in detail.
---
How to Watch
When: Friday, August 4, 2023, at 9:00 p.m ET
Where: Boeing Center at Tech Port, San Antonio, Texas
How to Watch: ESPN
---
Odds
---
Fight Preview
Jesus "El Mudo" Pinedo (21-6-1) is a Peruvian fighter who's spent most of his fighting life in local promotions in South America. He got himself in the spotlight in June when he knocked out last year's PFL champion, Brendan Loughnane. He finished the -770 favorite with a knee to the head in the 94th second of the fight.
That remains the biggest upset of the 2023 PFL season, but the real question is whether Pinedo can do it again. He's seen as a huge underdog once again, this time fighting the guy who lost to Loughnane in last year's final.
READ ALSO: UFC on ESPN 50: Sandhagen vs. Font Predictions, Fight Card, and Odds (Aug 5)
The man in question is Bubba Jenkins (21-6), a 35-year-old veteran with plenty of weapons in his arsenal. "Bad Man" is a former college wrestling champ, who's got impressive striking skills. Still, his strongest weapon is his high fighting IQ.
---
Bubba Jenkins vs. Jesus Pinedo Prediction
Bubba Jenkins is an intelligent fighter, and you can be 100% certain he won't underestimate Jesus Pinedo on Friday. Rather than trying to finish him spectacularly in the early stages of the fight, he'll probably look to take his opponent down and control him for as long as possible. That said, we think that the most likely outcome of this fight is Bubba Jenkins winning by decision.
Free Pick: