UFC 287 Predictions: Pereira vs. Adesanya 2 Odds & Picks (Apr 8)
MMA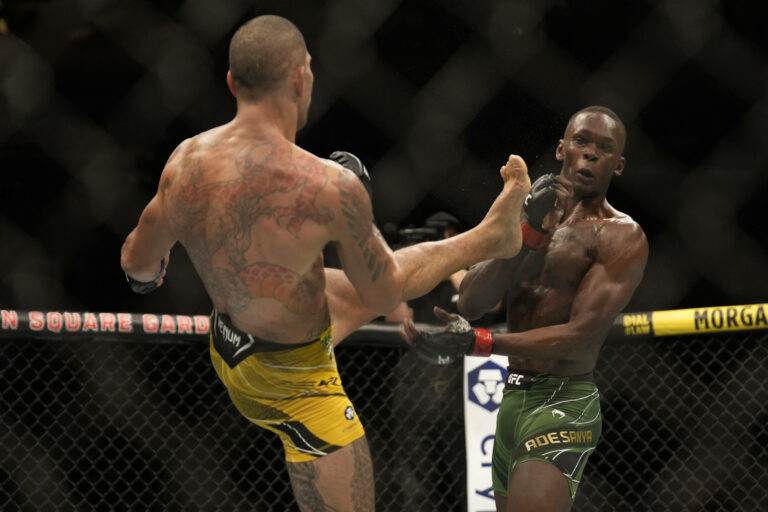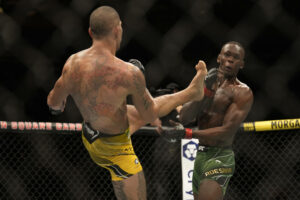 In search of some UFC 287 predictions? – Well, you're in the right place!
UFC 287 is the next event on the schedule and it's special for several reasons. First of all, it's headlined by Pereira vs. Adesanya 2, a fight for the UFC Middleweight title. Alex Pereira is the reigning champ who won the championship belt after a TKO win over Israel Adesanya last year.
The headliner itself is good enough to make MMA fans go crazy about UFC 287, but there are many more reasons to feel excited about Saturday's event. This is going to be the first UFC event in 20 years to take place in Miami, the hometown of Jorge Masvidal who's fighting Gilbert Burns in the co-main event of the evening.
In addition to those two fights, there are another three interesting bouts on the main card, along with at least another seven prelims and early prelims.
Jump to:
---
UFC 287 Pereira vs. Adesanya 2 Predictions
Alex Pereira vs. Israel Adesanya
Alex Pereira is Israel Adesanya's kryptonite. He's the only fighter who's defeated The Nigerian Nightmare inside the distance. And he did it twice – once in a kickboxing match and once in the UFC.
The latter happened last November in a championship contest, which saw Adesanya winning the fight until the third minute of the fifth round when Poatan beat him by TKO.
Pereira also has two kickboxing wins against Adesanya, one of which happened by KO. All this should make Adesanya way more careful than usual. Still, we do think he's going to stick to his usual tactic – he'll try to outside his rival and win by decision.
He was close to doing it in the previous fight with Pereira but was unlucky. This time, we think his plan will come true.
Prediction:
---
Gilbert Burns vs. Jorge Masvidal
Born and bred in Miami, Jorge Masvidal is fighting on his turf on Saturday. But he's fighting a very tough opponent, which explains why bookies see him as a huge underdog. In fact, of all the fighters on the UFC 287 fight card, Gamebred is the one with the longest odds.
The reason why he's priced at +350 is that he usually doesn't do great against good grapplers/wrestlers such as Burns. Masvidal is 0-3 since 2019, suffering a total of 13 takedowns in those three fights. Sure, he's probably been training hard to fix his TD defense, but we're not sure if that's going to be enough to stop the former world champion in Brazilian jiu-jitsu.
Burns will probably win this bout, but we can see Masvidal giving him a run for his money. In fact, we wouldn't be surprised if the fight lasted whole three rounds.
Prediction:
---
Rob Font vs. Adrian Yanez
Here's another incredibly interesting matchup in which we're bound to see a real battle. Adrian Yanez is 16-3 overall with all of his losses happening by decision. And all three of those losses happened a long time ago, before he joined the UFC.
He got into the world's biggest MMA promotion after impressing in Dana White Contender Series in 2020. Since inking the UFC contract, Yanez is 5-0 with four wins by KO/TKO, for each of which he won the Performance of the Night bonus.
Can he do the same again? Well, it's going to be very hard to beat Rob Font that way. It's never happened before – Font is 19-6 overall with zero losses by KO/TKO. He did suffer a couple of knockdowns but got up each time.
Yanez might be more attractive to watch, but Font has experience on his side. He's coming off two losses by decision, both to much more established fighters than Yanez (Jose Aldo and Marlon Vera). And both of those were 5-round fights.
We think he can fight for three rounds with Yanez, possibly winning over the judges' affection in the end.
Prediction:
---
Kevin Holland vs. Santiago Ponzinibbio
Here's another UFC 287 fight in which we think the underdog might cause a surprise. Priced at +195, Santiago Ponzinibbio looks like someone who could upset the odds. He's got a similar skillset as Kevin Holland, but what makes us think he's gonna win is that he's got confidence on his side.
READ ALSO: F1 Picks: Azerbaijan Grand Prix Predictions, Preview, and Odds (Apr 30)
Ponzinibbio is coming off a KO win over Alex Morono in December, for which he won the Performance of the Night bonus. Before that, he lost two fights in a row, but both of those were split-decision losses.
Meanwhile, Holland is 0-2 in his last two fights, losing by submission to Khamzat Chimaev and by TKO to Stephen Thompson.
Prediction:
---
Raul Rosas Jr. vs. Christian Rodriguez
One may argue that Raul Rosas Jr. is being hyped up by the UFC, but we think he deserves it. He's just 18, but he's already 7-0 in his professional career. Five of those happened by submission, which is what we expect to see on Saturday as well.
His opponent is another fine wrestler, also with an impressive record (8-1). Still, Christian Rodriguez just isn't good (or strong) enough to beat the future UFC superstar.
Prediction: