UFC 291: Poirier vs. Gaethje 2 Props, Breakdown, Odds, and Picks (Jul 29)
MMA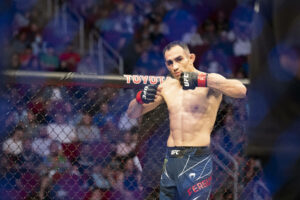 Will Dustin Poirier vs. Justin Gaethje 2 last for the full 25 minutes?
One of our top UFC 291 props is that someone will get finished in the co-main event.
Tony Ferguson by stoppage looks like a fantastic UFC 291 prop.
We've got some UFC 291 props for you!
UFC 291: Poirier vs. Gaethje 2 is going to be one hell of an event, with practically all of the fights on the main card looking like real bangers. The Vegas odds for the moneyline market are fantastic for literally every main-card fight. If that's what you're after, we've already done one UFC 291 predictions piece.  
However, if you're on the lookout for some other types of bets – rounds over/under, method of victory, fight to go the distance, and similar – you need to stay put. We're now going to present you with our favorite UFC 291 props, sharing our reasoning for why these bets are likely to win.
---
Schedule and How to Watch
Where: Delta Arena, Salt Lake City, Utah
When: Saturday, July 29, 2023, at 9 p.m ET
How to Watch: PPV
---
UFC 291 Props
Dustin Poirier vs. Justin Gaethje 2 Prop Pick
Justin Gaethje is the man who lands the most significant strikes in the UFC Lightweight division. His UFC 291 opponent Dustin Poirier is third on that list. Both of them also tend to get hit a lot in every fight, but they don't seem to care.
The evidence of this is that each of them has just two losses by KO/TKO in the portfolio. What's interesting is that one of Gaethje's TKO losses happened in the first duel with Poirier, back in 2018.
When asked about the July 29 event, Poirier said he's certain the fight won't go the distance. If it does, "The Diamond" said, the two will talk about it on the road to the hospital.
Poirier is obviously planning to go all-in on Saturday, and we expect no less from Gaethje. If it were a 3-round fight, we would probably see it last until the final bell. But 25 minutes of insane fighting in the Octagon is something one of these two won't be able to do.
---
Jan Blachowicz vs. Alex Pereira Prop Pick
Alex Pereira is one of the greatest kickboxers on Earth today, with a knockout-to-win ratio of 85.71% since switching from kickboxing to mixed martial arts. It's almost certain he's gonna go for a knockout on his UFC Light Heavyweight debut, but can he finish the big Polish guy?
We're not 100% sure about it. In fact, we think there's an even better chance just the opposite might happen. Jan Blachowicz is a powerful fighter who's great when it comes to takedowns. If he takes Pereira down to the ground, we could see him beat him by either ground and pound or submission.
---
Stephen Thompson vs. Michael Pereira Prop Pick
If Stephen Thompson wants to win, he needs to prevent Michael Pereira from taking the fight to the ground. The easiest way to do this is to destroy him with kicks and punches. Luckily for "Wonderboy," that's something he excels at.
He's one of the best kickboxers in the welterweight division, with nearly half of his wins happening by KO/TKO. Still, we doubt he's going to be able to knock Pereira out. After all, that's something only one fighter has done so far – Duško Todorović in 2018.
---
Tony Ferguson vs. Bobby Green Prop Pick
Tony Ferguson is 39 years old, and he is without a single win since the start of the decade, with five losses in a row. The only way the former UFC Lightweight interim champ can get back into the spotlight is if he beats Bobby Green in a spectacular fashion.
In simple words, "El Cucuy" needs to finish "King" in order to stay relevant in the UFC. So, can he do it? If there's a guy in the UFC who can pull this off, it's him.
---
Michael Chiesa vs. Kevin Holland Prop Pick
Michael Chiesa is a grappler whose striking is practically nonexistent. Meanwhile, Kevin Holland is a jack of all trades. Plus, Holland has a reputation for being someone who never quits. He's the guy who went the distance with Marvin Vettori in a 5-round middleweight fight.
This time, he's fighting in the welterweight division, meaning that he should have enough power to prevent Chiesa from taking him down and submitting him. Instead of the fight going to the ground, we suspect this will be a stand-up duel, which Holland will win in the end.