UFC on ESPN 48: Strickland vs. Magomedov Props, Breakdown, Odds, and Picks (Jul 1)
MMA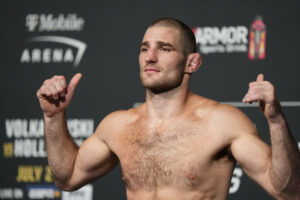 Strickland vs. Magomedov ready for a marathon duel in the UFC on ESPN 48 headliner.
Benoit Saint-Denis to beat Ismael Bonfim by submission looks like a very good UFC prop bet.
Melissa Gatto looks capable of upsetting the odds and finishing Ariane Lipski.
We've got some UFC on ESPN 48 props for you!
UFC on ESPN: Strickland vs. Magomedov is on the program on Saturday, July 1, 2023, at UFC Apex in Vegas. We've already covered some main event fights in our UFC on ESPN 48 prediction piece, sharing our top fight-winner picks.
In this post, however, we're going to focus only on UFC props. If those are the bets you're looking for, this post is for you!
---
Schedule and How to Watch
Where: UFC Apex, Enterprise (Las Vegas), Nevada
When: Saturday, July 1, 2023, at 10 p.m ET
How to Watch: ESPN
---
UFC on ESPN 48 Props
Strickland vs. Magomedov Prop Pick
Sean Strickland is a real warrior who just loves fighting. He doesn't mind getting beaten if he can give the opponent a lot of beating in return. This is one of the reasons why five of his last six fights went the distance.
Another reason why so many of his recent fights lasted for a full number of rounds is that he fought some real elite fighters – Jack Hermansson, Jared Cannonier, etc.
This time, he's fighting a fighter who doesn't have a too impressive fighting portfolio. Abus Magomedov is 1-0 in the UFC, but his only win was a KO win that happened in 19 seconds. It was his 14th career KO/TKO win, proving that striking is his strongest weapon.
We, however, doubt he's going to be able to finish "Tarzan" On July 1. Instead, our prediction is that the two will exchange strikes throughout the 25 minutes, leaving it up to the judges to decide the winner.
---
Damir Ismagulov vs. Grant Dawson Prop Pick
Damir Ismagulov is a fantastic striker; Grant Dawson is an elite-level wrestler. Knowing this, it's pretty certain what this fight's gonna be all about. Ismagulov will be throwing huge volumes of strikes at his opponent, while Dawson will try to land as many TDs as possible. And it's gonna be like that for a long time. That said, we predict this fight too will not end quickly.
---
Max Griffin vs. Michael Morales Prop Pick
Here's another fight in which our top prop pick is that it'll go the distance. Morales is the betting favorite who's got very fast hands and incredible power, but Griffin is a fighter who's lost just one fight inside the distance – in 2016 to Colby Covington (TKO).
Morales just isn't as good as Covington, so we don't think he can finish Griffin. But he's good enough not to get finished by Griffin. That's why "over 2.5 rounds" looks like a very good prop bet for the July 1 fight.
---
Ariane Lipski vs. Melissa Gatto Prop Pick
Now here's one fight that we don't think will last until the final bell. Ariane Lipski got KO/TKO-ed in 50% of the fights she lost. Melissa Gatto is 2-1 in the UFC, with both of her wins happening by a TKO. Knowing this, it's not crazy to think another TKO win for Gatto might happen.
---
Ismael Bonfim vs. Benoit Saint-Denis Prop Pick
Ismael Bonfim is a great striker, who's got a 100% TD defense since joining the UFC. However, that's because he hasn't faced such a great wrestler/grappler as Benoit Saint-Denis. The Frenchman looks more than capable of taking the fight to the ground early on, after which he'll go for a submission. Knowing that all of Bonfim's losses so far happened by this method, we think Saint-Denis might finish him as well.