Arizona Cardinals 2023-24 NFL Playoff Odds and Prediction
NFL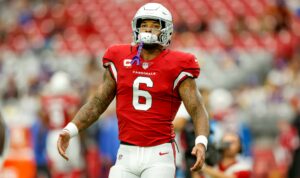 The Cardinals had a brutal season last year, dropping from 11 wins to 4.
QB Kyler Murray is recovering from an injury, and is still a question mark.
Arizona is expected to tank this season, hoping to snag the 1st pick in 2024.
As the 2023-24 NFL season approaches, let's take a look at the Arizona Cardinals' playoff odds and weigh their chances of making the postseason this year. They'll likely be in for a long year of rebuilding in 2023.
---
Playoff Odds
---
Team News
The Cardinals had a disastrous season in 2022. After winning 11 games in 2021, they had a miserable 4-13 finish in 2022, mired in controversy. QB Kyler Murray signed a 5-year, $230 million extension with Arizona, despite rumors that he was unhappy with the team. His relationship with head coach Kliff Kingsbury during the season was not good, and he eventually suffered an ACL injury that he is still recovering from.
Arizona's struggles went beyond Murray. WR DeAndre Hopkins was forced to serve a 6-game suspension, and departed for Tennessee this offseason. Key players A.J. Green and J.J. Watt announced they would be retiring this season as well. The Cardinals quickly went from a promising team in 2021 to a team many expect to finish dead last. That being said, it is possible they could bounce back when Murray is healthy.
---
Prediction
The odds reflect just how unlikely Arizona's chances of making the playoffs are. Many people speculate that they will try to draft QB Caleb Williams in 2024, and move on from Kyler Murray after this year. I think it's a bit soon for that type of thinking, but it will definitely be difficult for the Cardinals to finish above .500 this season. Despite their 11-6 finish just two years ago, I wouldn't take any chances trusting Arizona.