Buffalo Bills 2023-24 NFL Playoff Odds and Prediction
NFL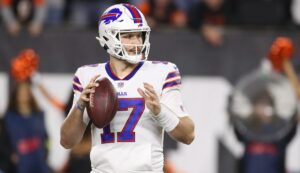 The Bills came up short in the 2022-23 playoffs, losing to Cincinnati.
They're hoping Josh Allen can lead them to the Super Bowl this year.
An increasingly difficulty AFC East could make things a bit complicated.
As the 2023-24 NFL season approaches, let's take a look at the Buffalo Bills' playoff odds and weigh their chances of making the postseason this year. They'll once again be aiming to end their Super Bowl drought.
---
Playoff Odds
---
Team News
The Bills are stuck in a bad playoff pattern right now. They've definitely taken some massive steps forward in the past 5 seasons. They snapped their 18-year postseason drought and won the AFC East for the first time in 25 years. Unfortunately, they're still coming up just short. Buffalo has won the division 3 years in a row, posting a 37-12 record during that span, but has also gone just 4-4 in the playoffs with QB Josh Allen.
Buffalo's best chance to return to the Super Bowl rides on the back of Allen, who continues to play at an elite level. Allen was more inaccurate last season, likely affected by injuries he played through for a large portion of the season. The Bills only owe Allen $1m in base salary this season, but that figure rises to $23.5m next year. They need to take advantage and win the AFC soon. It'll get more difficult each season.
---
Prediction
After making the playoffs in the last 4 seasons, the question for Buffalo seems to be more whether they can make the Super Bowl, not just the postseason. That being said, the AFC East is loaded with talent this year, so some regression or unfortunate injuries could still put the Bills in danger. Ultimately, they should have no trouble returning to the playoffs again this year. I see them winning 11-12 games and making it.