Cleveland Browns 2023-24 NFL Playoff Odds and Prediction
NFL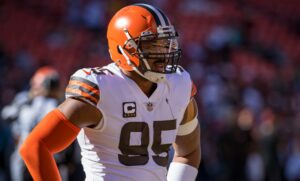 The Browns finished 7-10 last season, missing the playoffs.
They'll be aiming to avoid another 4th place finish in the AFC North.
QB Deshaun Watson will be available from the start of this season this time.
As the 2023-24 NFL season approaches, let's take a look at the Cleveland Browns' playoff odds and weigh their chances of making the postseason this year. They'll be fighting to stay afloat in a very tough division.
---
Playoff Odds
---
Team News
The Browns had another disappointing season last year, finishing 7-10 and failing to make the playoffs. They expected a slow start with starting QB Deshaun Watson suspended for the first 11 games of the season, but never recovered. Even when Watson returned, his play was just awful. He finished with 58% completion on his passes and a 79 passer rating. Cleveland needs him to shake off the rust this season.
Cleveland has a lot of talent on their roster, most notably RB Nick Chubb and DE Myles Garrett. If Watson can play at the same level he did in Houston, they'll have a chance to make the playoffs. That being said, the AFC North is stacked, so it'll be a task to just avoid finishing in last place. The Browns spent a lot of money over the last few offseasons, and really need to see it pay off to some degree before it's too late.
---
Prediction
It's hard to imagine the Browns usurping the other three AFC North teams after last season, but they shouldn't be completely ruled out. Watson's struggles last year could be attributed to rust as a result of sitting out for so long. If that ends up being the case and he rebounds this year, they'll have a shot. Even so, I'd still see them missing the playoffs even if he plays well, and I'm not entirely sold on Watson either.