Dallas Cowboys 2023-24 NFL Playoff Odds and Prediction
NFL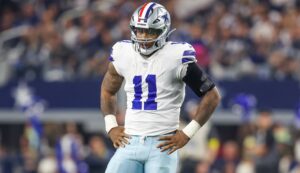 The Cowboys won 12 games last season, but once again lost in the playoffs.
They'll continue to lean on their stellar defense to keep them in contention.
Dallas was unable to reach a new deal with RBs Ezekiel Elliot or Tony Pollard.
As the 2023-24 NFL season approaches, let's take a look at the Dallas Cowboys' playoff odds and weigh their chances of making the postseason this year. They'll hope to take another step forward this season.
---
Playoff Odds
---
Team News
The Cowboys finished 12-5 last season, but fell in the divisional round of the playoffs. That marked the 27th consecutive season where they failed to advance past the divisional round, despite winning 10 or more games 10 separate times during that span. Fortunately, Dallas has some young stars on their team to help them try and advance further this season. Micah Parsons and Trevon Diggs lead the way on defense.
On offense, the Cowboys have a few more concerns than their consistently improving defense. After moving on from RB Ezekiel Elliot, Dallas also failed to reach an agreement with RB Tony Pollard on a new contract. Outside of superstar WR CeeDee Lamb, the Cowboys could use some more top receivers. The pressure will be on QB Dak Prescott to lead the offense to victory and lower his turnover rate from 2022.
---
Prediction
Dallas is another team that has a strong enough to roster to make the postseason, but also has a few pressing concerns. As they approach 30 years since their last NFC Championship game, the Cowboys need to take advantage of the talent they have. If they can't, head coach Mike McCarthy will be on the hot seat. Regardless of their chances once they're in the playoffs, they should at least go 10-7 and make them.