Green Bay Packers 2023-24 NFL Playoff Odds and Prediction
NFL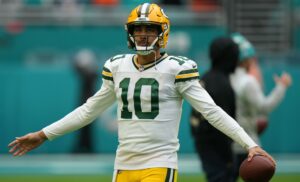 The Packers went 8-9 last season and narrowly missed the playoffs.
Long-time QB Aaron Rodgers departed for the Jets over the offseason.
2020 1st-round pick QB Jordan Love will be tasked with taking over.
As the 2023-24 NFL season approaches, let's take a look at the Green Bay Packers' playoff odds and weigh their chances of making the postseason this year. They'll have a new QB at the helm in 2023.
---
Playoff Odds
---
Team News
The Packers lost in the final week to the Lions last season, getting eliminated from playoff contention. With Aaron Rodgers officially departing Green Bay to join the Jets, the Packers will have the most uncertainty they've had in a long time. They'll be hoping that Jordan Love will follow in the footsteps of Rodgers, Favre, and Starr, but those are big shoes to fill. A rebuilding year seems likely to take place in Green Bay in 2023.
Aside from the concerns stemming from last season's under .500 season, I'm actually more positive on Green Bay's immediate future than many others. I expect Jordan Love to surprise a lot of people by playing at a much higher level than expected this year. Rodgers' lack of mobility was actually hurting the Packers, so they may even improve with Love. I see them finishing with a very similar record to last year, 8-9 or 9-8.
---
Prediction
As much as I'm confident in the future of the Jordan Love to Christian Watson connection, the Packers have a lot of pressing concerns from last season. I truly believe the change from Rodgers to Love won't be nearly as negative as many expect, but this is still a roster that only won 8 games last year. Even if Love plays at the same level, they need to find improvement somewhere else. I wouldn't bet on it this season.