New England Patriots 2023-24 NFL Playoff Odds and Prediction
NFL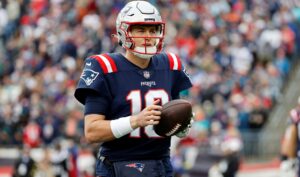 The Patriots finished 8-9 last season, missing the playoffs.
It was the 2nd time in the last 3 years they finished below .500.
New England may be fighting to avoid a last place finish this season.
As the 2023-24 NFL season approaches, let's take a look at the New England Patriots' playoff odds and weigh their chances of making the postseason this year. They'll aim to stay afloat in a very tough division.
---
Playoff Odds
---
Team News
The Patriots continue to work their way through the difficult post-Tom Brady era. After winning 10 or more games every season since 2003 under Brady, New England has gone just 25-25 over the past 3 seasons. They went 7-9 in the one year with Cam Newton at QB, before having a solid 10-7 year with rookie Mac Jones at the helm. Unfortunately, they regressed back to 8-9 last season, missing the playoffs again.
No one on the Patriots regressed more last year than Mac Jones did. He finished 28th of 31 QBs in QBR, ranking ahead of only Mayfield, Wentz, and Mills. His final numbers on the season were 65% completion for just under 3,000 yards, 14 TDs, and 11 INTs, good for an 84.8 passer rating. New England will need to figure out this season if Mac Jones just had a sophomore slump or if they need to do more QB shopping.
---
Prediction
The Patriots had a disappointing season last year, but are unlikely to repeat the same mistakes under head coach Bill Belichick. The problem is that the entire AFC East has gotten much tougher. Even if Mac Jones and New England are able to return to 2021's level of success, they still might miss the playoffs. It's hard to imagine a world where they finish last in the division after the Brady era, but it just may happen this year.